Who are SimplyFixIt & Ideal Computing?
Ideal Computing started selling custom made computers in Edinburgh in 1996. In 2002 we created SimplyFixIt. We Fix Laptops, Apple Macs, iPhones & iPads. We are the only independent computer retailer in Edinburgh from the 1990s that is still under the original ownership. In January 2015, we were endorsed by Which? after passing a rigorous assessment.
Want to know why we've lasted so long?
Our Location Where do you cover?
SimplyFixIt cover all of the EH postcode area, also known as the Edinburgh postcode area, which is a group of postcode districts around Armadale, Balerno, Bathgate, Bo'ness, Bonnyrigg, Broxburn, Currie, Dalkeith, Dunbar, East Linton, Edinburgh, Gorebridge, Gullane, Haddington, Heriot, Humbie, Innerleithen, Juniper Green, Kirkliston, Kirknewton, Lasswade, Linlithgow, Livingston, Loanhead, Longniddry, Musselburgh, Newbridge, North Berwick, Pathhead, Peebles, Penicuik, Prestonpans, Rosewell, Roslin, South Queensferry, Tranent, Walkerburn, West Calder and West Linton in Scotland. We're very proud to be from Edinburgh.
In 2015, SimplyFixIt opened our first store in Glasgow. It is just off Buchanan Street, where it intersects with Bath Street. You really can't get any more central than that. From that location we are able to support anyone in Glasgow and the surrounding area.
Our Quality We don't cut corners.
Right from the start we decided that we wouldn't just use the cheapest parts in our computer systems. We choose quality branded components wherever possible. This can mean that the price is slightly more than a computer built by a friend of a friend, but it's a lot more reliable. In fact, because we test each & every computer before we hand it over to you, our computers are much less likely to break than all of the major brands too.
We don't use old stock.
The world of computers is a fast one. One day a computer is top of the range, then there's a new super duper computer out. So, when you buy a computer off the shelf from a supermarket or superstore, ask yourself when it was made. How long has it sat in their warehouse? How out of date is it, the moment you get it home?
Ideal Computing build every computer to order. That means that every component is up-to-date and as close as possible to the date it was manufactured, which means a more reliable &affordable computer for you.
Our Values
We speak your language.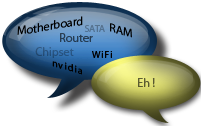 Have you ever been in a garage and the mechanic sounded like he was speaking a foreign language as he talked about your engine? It's even worse with computer sales people, isn't it? So many technical sounding words are used - so many numbers. Gigahertz, Megabytes & Terrabytes. It's like they want to keep you in the dark. We don't. We speak your language. We will explain what is actually important, what you need to know. That's not to say we can't get technical if that's what you want. Whatever your level of expertise, we can help you.
We know about budgets.
Today, everyone should question every purchase. Are they buying more than they need - can it be found for better value for money - can we get more out of what we already have?
Not everyone is the same. Some people need a computer for emails, for basic word processing and for keeping in touch with relatives in Australia. Others need more powerful computers for multimedia, like watch Blu-Ray movies or playing games. Others need a Small Business style office computer. So, we've put together computer systems from £200. We don't add things that are not needed, and we never try to get you to buy more than you need. If we think you'll get the same performance from a cheaper system or component, we'll tell you.
Our Awards
Computer Buyer - Recommended

Computer Buyer - Best Buy

PC Advisor - Best Buy

PC Advisor - Recommended

PC Plus - Editor's Choice

PC Plus - Value Award

PCW Magazine - Highly Recommended

Computer Shopper ' Best Buy

What they said

"Edinburgh-based Ideal Computing is going from strength to strength."

"Cutting edge machines will certainly blow your socks off in terms of pure performance, but the hefty price tag that invariably swings from them is often too much to stomach. Ideal Computing's latest machine is both powerful and very affordable..."

"By carefully balancing performance against features, Ideal Computing brings us the perfect family PC at a sensible price..."

"Ideal Computing has proved its dedication to making high specification systems at an affordable price."

"Ideal Computing custom made computers are affordable and efficient, this powerful machine is made for anyone on a budget... graphics are superb."
---