On 23rd August 2015 we opened our store on Bath Street in Glasgow. Situated just a few metres from Buchanan street, opposite TopShop it offers a very central location for people who need a repair in Glasgow. We offer high quality laptop repairs, carried out by Microsoft & Mac repairs carried out by Apple Certified Technicians. So if you have a Windows laptop that is slow, or a Macbook Pro with a broken screen, don't worry. SimplyFixIt in Glasgow can help.
Apple on Buchanan Street is closed for remodelling from for several months. During this time you should take all warranty issues to the store at Braehead. For out-of-warranty repairs to iPhones, iPads or Macs (including Macbooks or iMacs) you can take your device to SimplyFixIt on Bath Street. Our Apple Certified Technicians can help you even without an appointment. For Macbook screens, SimplyFixIt are up to £200 cheaper than Apple; use the same genuine parts as Apple and offer the exact same warranty as Apple.
---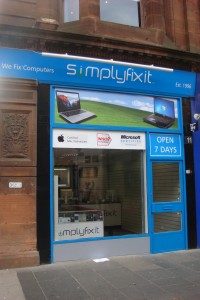 Opening Times:
Monday:

09:00 – 18:00

Tuesday:

09:00 – 18:00

Wednesday:

09:00 – 18:00

Thursday:

09:00 – 18:00

Friday:

09:00 – 18:00

Saturday:

09:00 – 18:00

Sunday:

09:00 – 18:00
Show map & directions.
About the store:
SimplyFixIt in Bath Street, Glasgow, offers a full range of laptop, Apple Mac and iPhone & iPad repairs. Just across the road from TopShop on the corner of Buchanan Street and Bath Street, it really couldn't be more central.
Refurbished Apple Macs
SimplyFixIt on Bath Street also has the largest selection of certified refurbished Apple Macs in Glasgow. Everything from 13"MacBooks Air to Retina MacBooks Pro. All at great prices. We are not talking about old white plastic MacBooks either. We have Macbooks Pro that are currently being sold by Apple for £899 and we have them in stock for £599. That's £300 cheaper than Apple.
Pokemon Go
For anyone who plays Pokemon Go, we are pleased to say that SimplyFixIt at Bath Street is a Pokestop. So if you need to collect any Poke balls or eggs, you can do so here.
The following items are what can be obtained at a PokeStop:
Pokeball: This is the most common reward. They are necessary for catching new monsters.
Potion: These are used for recovering the HP of a Pokemon after a battle.
Razz Berry: This item makes it easier to catch Pokemon. The creature eats it.
Revive: Revive is used to restore a Pokemon if the monster faints during a battle.
Egg: Each egg has a Pokemon inside. It will only catch if it's placed inside an incubator. They hatch at after you walk 2, 5, or 10 kilometres.
Lucky Egg: When a Lucky Egg is eaten, it will double a trainer's experience for 30 minutes.
Incense: This will help attract Pokemon to a trainer for 30 minutes.
Great and Ultra Balls: These are enhanced Pokeballs that will help trainers catch rare and strong Pokemon. These can only be obtained at higher training levels.
Incubators: Incubators are necessary for hatching eggs.