Independent guide to unlocking iPhones
How to unlock an iPhone 4, 4s, 5, 5s, 5c, 6 or 6 plus. Our independent guide helps you to get a free unlock code from most UK networks for your iPhone. It enables you to unlock an iPhone permanently, without jail-breaking your iPhone or any other hack. Legally unlock your iPhone.
Why unlock an iPhone?
There are a lot of reasons for unlocking iPhones. Maybe a friend or partner has upgraded to a new iPhone 6 and passed you their iPhone 5. Maybe you have bought one second hand or maybe you just want to change phone networks.
Another big reason is that it is possible to switch to a cheaper SIM-only tariff which can save you a lot of money (around £300 per year) compared to a standard iPhone contract.
In this guide, we outline how to unlock an iPhone from the UK's major networks, and an alternative, official method of unlocking iPhones if that isn't an option or if your iPhone is from a non-UK network.
When you first get your iPhone it will typically be 'locked' to a mobile network, such as Vodafone or O2. This means it'll only work with SIM cards from that network (e.g. an iPhone locked to O2 will only accept O2 SIM cards).
Generally when you want to unlock any other type of phone, you take it to a local phone shop and they unlock it for you. But iPhones are different. The status of the lock is stored on Apple's computers, so even if you pay a shop to unlock an iPhone, it's only ever a temporary solution. At some stage, normally when you connect your iPhone to iTunes for an update or when a new iOS is released, Apple will lock the iPhone again to the network that it was originally on.
So the only way to unlock iPhone is to have the telephone network contact Apple and inform them that the phone is now unlocked. The good news is that generally this is a pain-free, and cheap process.
Most iPhones are sold locked to a phone network, you'll need to unlock it first before using it on a different network. In this article, we discuss the iPhone unlocking procedures for all of the UK's major networks. You'll need to follow them before you can swap to a SIM-only tariff or using a different SIM card when abroad. If you bought your iPhone directly from Apple, it will normally already be unlocked and you don't need to do this. Please also note that this information is for iPhones that are locked to UK based networks only. For iPhones locked to other countries please visit International iPhone Unlocking. All prices should be confirmed before you proceed. This information is provided for advice only.
Stop Press:
It has now become even more pain-free because Official iPhoneUnlock.co.uk allows you to bypass the phone network and get your iPhone unlocked within 24-48 hours in most cases (and some networks like O2 and 3 can be unlocked the same day). This is great news if you are on EE, T-Mobile or even Vodafone. We have had feedback from customers saying that sometimes dealing directly with those networks can be "awful", with unlocks taking more than 30 days to happen. With Official iPhoneUnlock.co.uk you can factory unlock iPhones from these networks very quickly.
Quick Links to Unlocking Pages
You really should read all this information, but I know some of you just want the juicy bits, so here are some links.
So, you have an iPhone 5, which you like, but you're due an upgrade. You don't really need one, but it's free right? Well, you can save about £300 per year by switching to a SIM-only contract and keeping your existing iPhone. For example, switch to Three's iPhone SIM deals which comes with 600 minutes, 5000 texts & 1GB internet per month. Assuming that you're currently paying around £35/month on your standard iPhone tariff, Three's deal would save you a massive £301 per year. The 1GB inclusive download allowance is also twice as much as offered on most standard iPhone tariffs (500MB). We don't recommend any particular phone company though so have a look about, you might be able to find something even cheaper. But remember to pick the right version of the SIM for your type of phone:
SIM card sizes
iPhone SIM Card Sizes

| iPhone Model | SIM card size |
| --- | --- |
| iPhone 2G, 3G or 3Gs | Standard SIM |
| iPhone 4 or 4s | Micro SIM |
| iPhone 5, 5c or 5s | Nano SIM |
| iPhone 6 or 6 plus | Nano SIM |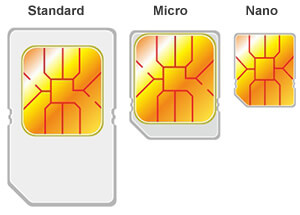 Going on holiday? It's always cheaper to use a SIM card from the local country while travelling abroad. When using your UK SIM card internationally (roaming), you could sometimes be paying too much for phone calls, especially if you're calling someone else who is on holiday with you. Text messages are expensive, and if you ever try to use the internet on your iPhone abroad, be ready for a huge bill. Costs do tend to be lower within the EU but data usage is still too expensive. There are several ways to cut your roaming bill but the cheapest option is to get a local SIM card in the country you're in. This will allow you to use all of your iPhone, including internet access, e-mail and instant messaging without having to worry about your roaming bill. Plan ahead though, because you'll need to unlock the iPhone first to use a different SIM card when abroad, sometimes even if the phone company is the same, e.g. Vodafone here in the UK or abroad.
If you do want to upgrade your iPhone, why not pass on your current iPhone to a family member or even sell it on. An iPhone that can accept SIM cards from any phone network is going to be worth more money than one that is locked to a particular network.
Is unlocking an iPhone illegal?
It is perfectly legal to unlock iPhones in the UK. Individual countries within the EU have their own laws regarding SIM locks but EU law was used to overturn a law in Belgium which made it more difficult to unlock phones. So the good news is that the right to unlock your iPhone is double protected, both in the National Parliament and the European one.
Mobile phone companies lock phones to their network because they have spread the cost of the phone over the length of the contract. In my opinion, it shouldn't really matter what you do with the phone as long as you continue to pay your contact, but they claim that they are 'subsidising' the price of the phone and they don't want you to take their subsidised phone and to use it immediately on a different network.
After you have owned your iPhone for a certain period of time (sometimes as little as 30 days), you can ask your network to unlock it. All UK mobile networks will normally unlock it, although some charge a small unlocking fee (usually no more than £20).
In this article, I only talk about the official ways to unlock an iPhone. You may find other unofficial methods of unlocking your iPhone on the web, but the best advice I can probably give you is that it's not worth it. These methods might offer to unlock your iPhone by offering you a code to type in or software. There's no guarantees that these methods work: a lot of them of them are scams to take your cash and fail to unlock your phone whereas others could render your phone unusable. Some methods will successfully unlock your iPhone by "jail-breaking" but the unlock is only temporary – Apple regularly update the software on the iPhone and fix these loopholes that let them be jail-broken. When you update the software on your phone it will lock it again. At the very least, your warranty could be cancelled if you unlock your iPhone in an unauthorised way. Do some research ensure that you fully understand what you're doing if you choose to unlock your phone another way.
Which iPhones can I unlock?
The methods of unlocking your iPhone that are described on this page should work with any iPhone device purchased in the UK. This includes the iPhone 6 plus, 6, the iPhone 5s, 5c and iPhone 5 as well as the older iPhone 4s and iPhone 4. It should also work for unlocking the iPhone 5 series, 5, 5s or 5c. As these are officially sanctioned unlocking methods, they will work regardless of your model and your current version of iOS.
Is an unlocked iPhone really cheaper?
If your contract has finished then you can usually save around £300/year by unlocking your iPhone and switching to a SIM-only contract. Just make sure that the SIM-only contract has a data allowance. The "data" allowance is the amount of time that you can spend online using your iPhone.
All the major networks including O2, Orange, T-Mobile (now combined into EE) and Vodafone also offer SIM-only tariffs which are suitable for use within an iPhone. But you can also use SIM cards from GiffGaff and various other companies. Do some research but USwitch have a comparison page at iPhone SIM only deals
The only other thing to watch out for is the size of the SIM card that different iPhones use. iPhone 4 & 4S users will also need to make sure they receive a micro-SIM card rather than a standard sized SIM card. iPhone 5, 5s and 5c use a nano-SIM.
Did you know that when you change network, you can keep your existing phone number? You do this by requesting a PAC Code from your existing network and letting the new network know this. Switching network is simple and porting your number should take less than 24 hours.
What is the IMEI?
Before you mobile network starts the iPhone unlocking process, they will ask for the IMEInumber of your iPhone. This is a unique serial number. You'll have to know your IMEI so that your network can unlock your iPhone.
There are three methods of getting the IMEI number of your iPhone:
Go to your iPhone dialler keypad and type *#06# (star-hash-zero-six-hash). The IMEI number will appear on your screen.
In the iPhone menu, go to Settings >General >About. The IMEI number should be listed on the screen.
Connect your iPhone to iTunes on a computer. On the information page, click on the phone number. This tells you several pieces of information about the iPhone, one of which is the IMEI number.
It's probably best to write down your IMEI number (it should be 15 digits long) and make sure you provide the correct IMEI number when unlocking your handset.
Unlocking the iPhone 6 and 6 plus.
At the time of writing, none of the networks are unlocking the iPhone 6 or 6 plus. So if you have one of Apple's newest model of iPhones, and you want to switch network, then you will need to visit OfficialiPhoneUnlock.co.uk. They are able to negotiate a price with the network based on the amount of people who 'pre-order' an unlock. So you pay a £19.99 deposit and then they speak to the network and say, "I have x hundred of people who need an iPhone 6 unlocked. What is the price?" They then confirm that price with you and you can complete the order and purchase the full unlock, which will be discounted by the £19.99.
---
If you bought your iPhone from O2 and you are a Pay Monthly customer then your iPhone can be unlocked for free at any time but you'll still have to fulfil the minimum term of your contract (so you can't cancel your contract early just because they have unlocked your iPhone). If you are on Pay-As-You-Go, where you need to buy top-ups, then you will need to wait 12 months before O2 will unlock your iPhone. If you want it done faster or if you bought the iPhone from someone else, then you won't normally be able to get O2 to do the unlocking. But that doesn't mean you can't get your iPhone unlocked. Visit Official iPhoneUnlock.co.uk and they will normally be able to unlock your iPhone in a day or so.
If you are on Pay-As-You-Go, O2 charge £15 to unlock an iPhone. This comes from your balance so ensure you have at least £15 credit, or you should top-up by £15 or more prior to requesting an iPhone unlock. If you unlock your iPhone within the first 12 months of ownership, you'll lose the free Web &Wi-Fi bolt-on that O2 gives you.
Read more about unlocking an iPhone from O2.
Unfortunately EE seem to be very strict on unlocking iPhones. If you have purchased an iPhone or been given an iPhone which is locked to EE then it will be a lot easier for the original owner to ask for it to be unlocked. If this is not possible then EE may ask you to enter into an SIM contract for 6 months before they will unlock the iPhone. If you don't want to spend 6 months waiting and also the cost of a 6 month contract then you should look at OfficialiPhoneUnlock.co.uk.They can unlock your EE iPhone in a matter of hours. The upfront cost is higher, but compared to a 6-month contract and the delay it will probably still work out to be cheaper.
If you can get EE to unlock your iPhone then there is usually a fee of £8.99 including VAT.
If you are a Pay as you go customer, you should make sure that you have enough credit in your iPhone to cover the cost. The unlocking process takes between 7-10 days to complete, but we have heard of it taking a lot longer.
On a monthly contract you'll need to call 150 from your iPhone, or 07973 100 150 from another phone.
With a pay as you go phone, call 450 from the iPhone, or 07973 100 450 from another phone.
Read more about unlocking an iPhone from EE.
It is possible to unlock your iPhone from Three once you've had it for 30 days and you've paid your first bill. If you are not a Three customer then you will need to get a Three SIM card and use it for 1 month.
It costs £15.32 to unlock your iPhone. Again, if you are a Pay as you go customer, please ensure that you have at least that much credit available.
You can contact Three customer services on 333 from your handset (or 0843 373 3333 from a landline) to request the unlocking of your iPhone.
Type *#06# on your phone's call screen to get your IMEI number. Write this down, as you'll need it on the call.
Call 333 from your Three phone.
Select option two.
Select option three.
Select option one.
Read more about unlocking an iPhone from Three UK.
Unlock an iPhone from Vodafone
As with all the networks, Vodafone will only unlock your iPhone if you are the original owner. So if the iPhone was passed to you or you bought it on eBay, then you'll need to use an unlocking company like Official iPhoneUnlock.co.uk. If you are the original owner, Vodafone will unlock your iPhone for a fee of £19.99. If you have been a customer of theirs for longer than a year, you might even get it done for free. As with the other networks, the £19.99 charge is taken from your Pay As You Go credit so you should top up by at least £20 prior to unlocking your iPhone. It should take no more than 72 hours to unlock your iPhone. Requests should be made through Vodafone's online form. Once you've done that they should get back to you within 48 hours.
Read more about unlocking an iPhone from Vodafone UK.
What's next?
Once you've informed your mobile network that you want to unlock your iPhone and you've made the necessary payments, your mobile network needs to inform Apple. Apple maintains a central list of unlocked iPhone devices and it can take up to 14 days for your iPhone to be added to this list. Once your device is on the list, you'll need to connect it to iTunes to complete the unlocking process. A message should pop-up in iTunes to let you know that your device has been unlocked.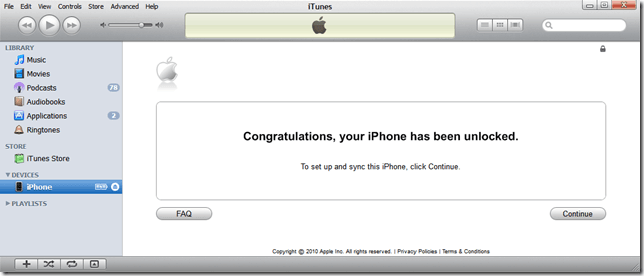 How can I check to see whether my iPhone has been unlocked?
The easiest way to test whether your iPhone has been successfully unlocked is to insert a SIM card from a different network. All of the UK's major mobile networks offer free Pay As You Go SIM cards.
If you've unlocked your iPhone through the methods discussed on this page, you will see a &quotCongratulations, your iPhone has been unlocked." message in iTunes once your unlocking request has been processed.
What about stores which offer to unlock iPhones?
Some newsagents and shops may offer to unlock iPhones. They will usually do this by "jailbreaking"your device. This is not the recommended method of unlocking as it isn't a permanent unlock: you'll need to jailbreak the phone each time that Apple releases a new software update. It may also invalidate your warranty.
The only official ways to unlock iPhones is either through your mobile network operator and the methods listed on this page, or by using Official iPhoneUnlock.co.uk. We strongly recommend paying the small fee to unlock your iPhone officially and legitimately.
Quick Links to Unlocking Request Forms