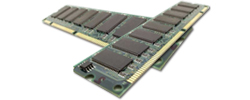 Got a slow Mac that needs a boost? Click here for Apple Mac RAM upgrades. Guaranteed to be cheaper than Apple with exactly the same quality.
RAM Memory Upgrade
Memory, or RAM, is the oil that makes your computer run smoothly. It is used in every operation your computer performs, from simply pressing the mouse button to running complex game graphics. It is also one of the most cost-effective and affordable investments in upgrading to your computer, producing both subtle and profound improvements on hundreds of daily processes, applications and tasks.

If you work with digital media of any kind such as image manipulation, video and audio recording and production, and CAD (Computer Aided Design) then having ample memory is essential to enable your computer to work at its best. It's not just these processes that rely on your computer's memory - desktop publishing, databases and all other manner of programs use their quota of memory to run.
Why Upgrade Memory
If your computer has been dragging its heels a bit lately, it could be time to upgrade your memory. Memory is one of those things that you really become aware of when you don't have enough. Here are some of the telltale signs that you need to upgrade your RAM:
Programs and games crash.
Games are jerky, sluggish and unresponsive
Your computer slows down when you run many programs at the same time
Any number of error messaging pertaining to memory and virtual memory
Imaging, CAD, video, modelling and sound applications take forever to import, export or apply filters - especially when you have multiple projects open at the same time
7 day money back guarantee
We know that increasing the amount of RAM memory that you have will make your computer faster. But how can you be sure? Easy! If you are not happy with how much faster your computer is with the extra RAM memory, just bring it back within 7 days and we will give you your money back. No questions asked. So you have nothing to lose.