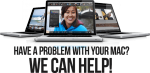 Need help with your Apple Mac? No problems. SimplyFixIt provides fast Mac repair services in Edinburgh and Glasgow for your MacBook, Macbook Pro, MacBook Air, iMac or Mac Mini.
We are open weekdays and weekends, and there's no need for an appointment. Our convenient Mac repair service is available at a time that suits you. The friendly technicians at SimplyFixIt are experts in Apple computers, including iMac & MacBook repairs. They will explain everything in simple, everyday language. No tech speak here. No confusing computer jargon. Just straightforward Mac repairs without the waffle.
We have Apple Certified Mac Technicians who oversee all the work carried out, to ensure that it's exactly the same as that performed by the technicians at Apple – Same Quality – Simply Cheaper.
Additionally, all our work is guaranteed, meaning you can relax knowing that your Mac is in safe hands. SimplyFixIt can also assist you with:
Speeding up a slow Mac
Broken screens ‐ we're up to £200 cheaper than Apple
Malware & Ransomware removal
Data back-up and recovery
New Mac set-ups, plus email & wireless network configuration
Preventative maintenance and servicing
Are you a small to medium-sized business that operates a network of Mac computers? If so, our new Business Class Mac repair service is perfect for you. We can tackle any problems quickly and efficiently, helping to minimise downtime and ensure business continuity. SimplyFixIt can also help reduce your IT costs thanks to our flexible support packs and no fixed contracts. Let us worry about time consuming computer and IT issues while you concentrate on core business activities. So whether you've had your Mac for years or just got an Macbook for Christmas, our Mac Repair Services are right for you. Contact us for more details