In 1996 we opened our first store, as Ideal Computing, in Morningside. Not long after we found our permanent home at Bruntsfield Place, beside the Bruntsfield Hotel.
SimplyFixIt Bruntsfield can be found inside our Ideal Computing Store. Laptops, Macs and iPads & iPhones are all repaired in-house by our qualified technicians. Our staff are qualified as Microsoft Certified and Apple Certified Mac Technicians and can diagnose faults on your Mac, PC laptop or any other device.
Just bring your broken device into the Bruntsfield branch and one of our technicians will advise you on the best option.
---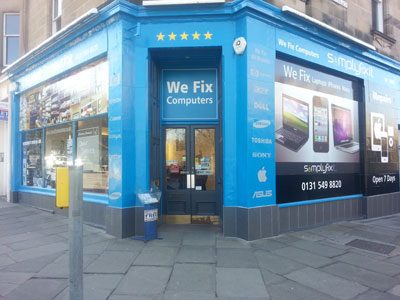 Opening Hours
Monday:

08:00 ‐ 18:00

Tuesday:

08:00 ‐ 18:00

Wednesday:

08:00 ‐ 18:00

Thursday:

08:00 ‐ 18:00

Friday:

08:00 ‐ 18:00

Saturday:

09:00 ‐ 18:00

Sunday:

09:00 ‐ 18:00
About the area:
Ideal Computing in Bruntsfield Place features a full range of computer accessories and upgrades, from a USB memory stick right up to new laptops or custom built computer systems.
History:
It sits on the ancient area of Bruntsfield. A charter in 1381 mentions the area was granted to Richard Broun of Burrowmure. His field, Brounisfeld, is where you will find us. Directly across from us is the Bruntsfield Links, recognised as the world's oldest short-hole golf course, which the Burgess Golfing Society founded in 1735. But before that it was used to bury plague victims in what could be the biggest mass grave in Edinburgh.