In 1996 a new computer retailer opened in Edinburgh. Ideal Computing was started by a young man who wanted to do things differently. He was determined that the computers we built had high quality components, and would deliver amazing value for money.
After a brief period in Morningside, we opened our shop in Bruntsfield Place, and was soon noticed by the national press. By the time the company was 5 years old, it had been awarded over 50 awards by the big name computer magazines, and the Sunday Times, who said, "Ideal Computing custom made computers are affordable and efficient"
Our Awards
Computer Buyer – Recommended

Computer Buyer – Best Buy

PC Advisor – Best Buy

PC Advisor – Recommended

PC Plus – Editor's Choice

PC Plus – Value Award

PCW Magazine – Highly Recommended

Computer Shopper – Best Buy

What they said

"Edinburgh-based Ideal Computing is going from strength to strength."

"Cutting edge machines will certainly blow your socks off in terms of pure performance, but the hefty price tag that invariably swings from them is often too much to stomach. Ideal Computing's latest machine is both powerful and very affordable…"

"By carefully balancing performance against features, Ideal Computing brings us the perfect family PC at a sensible price…"

"Ideal Computing has proved its dedication to making high specification systems at an affordable price."

"Ideal Computing custom made computers are affordable and efficient, this powerful machine is made for anyone on a budget… graphics are superb."
Offering Support
As part of our commitment to our customers, we wanted to ensure we had the best aftercare, where customers could come back if they had any issues with their computer. It didn't matter to us how experienced the customer is with computers, we explain things clearly and in an unpatronising manner. Soon, we were getting requests from people who had bought computers from elsewhere. They had "saved" a few pounds by buying a computer from a supermarket or other shop, but soon found that there was no aftercare. So, we started SimplyFixIt.
Initially SimplyFixIt worked exclusively on desktop computers, because that was pretty much all that everyone owned. But it wasn't too long before we started to see laptops coming in. Then Apple Macs, and iPhones & iPads became the predominant IT devices that we see.
Before the COVID pandemic, we were carrying out over 25,000 repairs a year — and employing over 30 people, while still being based in Edinburgh. (Although by now, we also have a store in Glasgow). From our Scottish base, we fix devices for people from all over the United Kingdom. We publish a map every day of where our customers come from. I'll wager you live close to someone who has used SimplyFixIt in the last month or so.
During the pandemic we tried to do our bit by offering free iPhone repairs to all local NHS staff. We fixed over 100 phones for nurses, doctors and auxiliary staff in Edinburgh, without any financial help from anyone. We just wanted to say thank you, in our own way, to everyone involved in the local NHS.
2021
In 2021, we celebrate 25 years in business. When we started we didn't have Facebook or Instagram, or even Google. We didn't even have 24 hour a day internet, and when we did go online, it was slow. The other computer shops in Edinburgh from the time have either shut down or changed hands. We now have shops in Glasgow, 5 locations across Edinburgh, with a new one opening in September. Watch this space!
In order to celebrate 25 years in business, we are reducing the price of screen repairs by £25. It doesn't matter if it's a Dell laptop, a MacBook Air or an iPad Pro, it will be even cheaper to fix it at SimplyFixIt this week. iPhone repairs at SimplyFixIt are already around half the price of Apple's, but from July 12, 2021 to July 18, 2021, they will be even cheaper.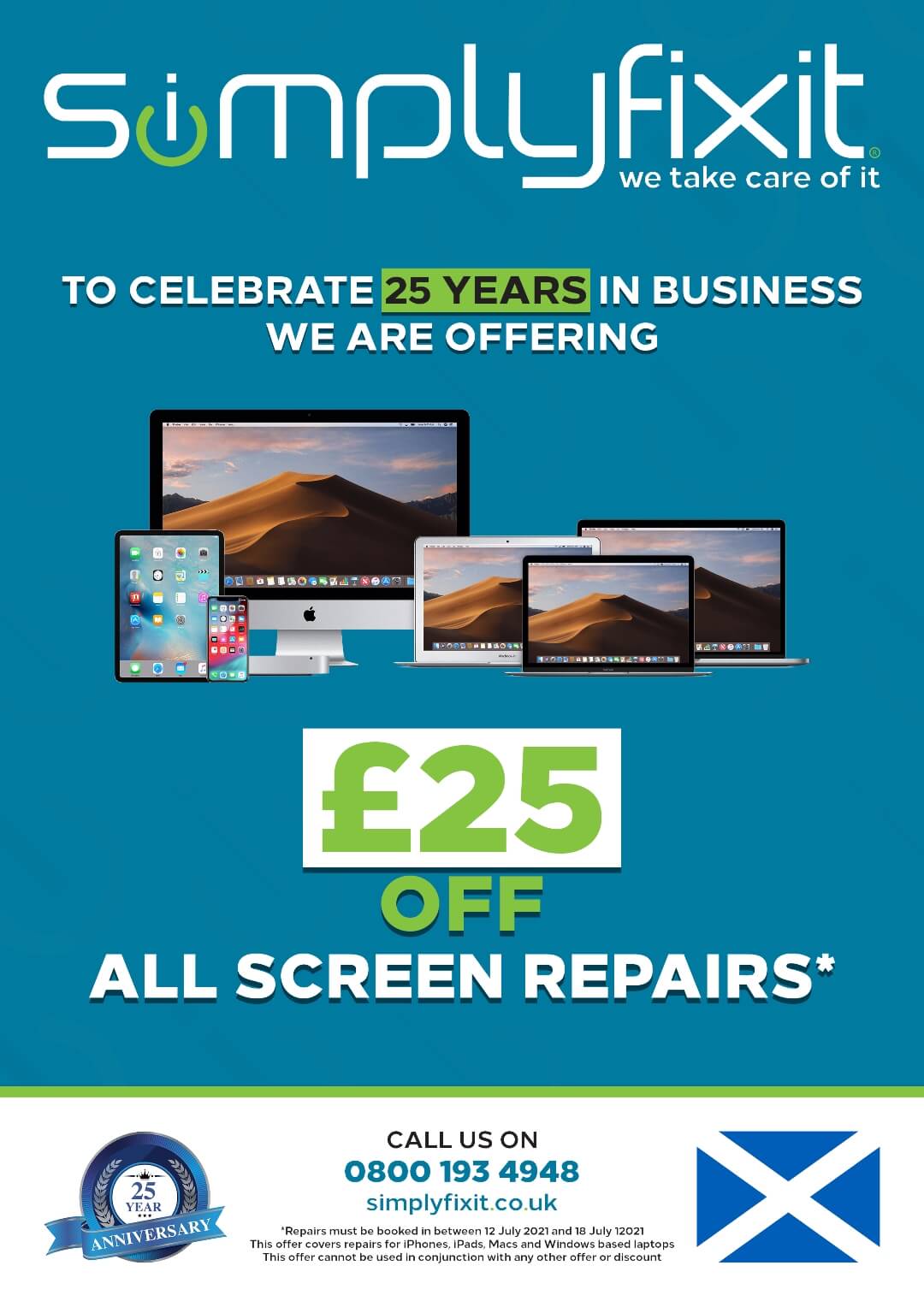 Thank you.
None of this would be possible without you. We never forget that. We will always do our best to give you the best service we can. It's been a pleasure looking after your IT equipment for the last 25 years. Here's to 25 more.
---