Hibs FC - Established 1875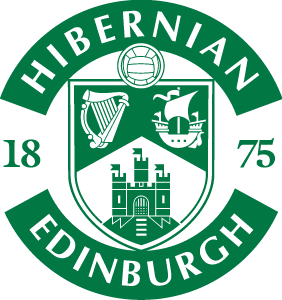 SimplyFixIt are proud to be partners of Hibernian FC, Hibs, in the 2012 - 2013 SPL season. As an Edinburgh based company we want to support our local teams, from the top SPL teams like Hibs to the schoolboy leagues. We're proud to be from this city.
Hibs Background
In the mid 1870s, Edinburgh hosted an Irish community of 25,000 living in conditions of appalling poverty in the Cowgate district or "Little Irelandâ€". As association football grew in popularity, the committee of the Catholic Young Men'€™s Society (CYMS) decided to form their own club to be called "Hibernian" (from the Latin Hibernia=Ireland); their emblem would the harp and their motto Erin Go Brach (Ireland Forever). According to John Mackay's history, "members were required to furnish at their own expense caps, white guernsey (jersey) with harp on left breast, also white trousers with green stripes". Father Hannan, the priest of St Patrick's Church was elected manager.
The Edinburgh FA banned its members from playing against, or even having contact with these upstart Irishmen but on Christmas Day 1875 the Heart of Midlothian club broke the embargo. Hibernian were grudgingly admitted to the Edinburgh FA and then the Scottish FA in 1876.
The Famous Five
SimplyFixIt have 5 repair centres across the city. We fix computers and laptops. We fix Apple Macs, and iPhones and iPads. In fact we fix anything to do with computers. It doesn't matter what's wrong with it, or where you bought it originally, we can help you. We opened our first shop in 1996 in Bruntsfield and our most recent shop is in Stockbridge, just 2 miles away from Easter Road
Exclusive discounts for Hibs Fans.
Throughout the year we will have many exclusive discounts here for Hibs fans. These will only be available to fans with a ticket for a recent match at Easter Road. We want to be more than just another company that advertises at Hibs. We want to support the fans, by giving something back.
Ticket holders save £18.75 on laptop repairs.
When you buy a ticket to see Hibs at Easter Road, you are helping to support Scottish Football. Too many people stay at home and watch English clubs on TV but you make a difference. We want to say thank you, in a small way, so when you show your recent match ticket, we'll give you £18.75 off the price of any laptop, PC or Apple Mac Repair. 1875 is such an important year for the club and now it's a discount, exclusively for Hibs fans.