Repairs during lockdown
During the lockdown we are still carrying out essential IT repairs at our Stockbridge store. Technicians are working in the store from Monday to Friday, 9am – 6pm. If you need your device repaired, you can drop your device off at any time while they are there. Unfortunately, we cannot let you enter the premises. That rule applies even if it's raining, so I would advise that you call from your car once you are outside. You can reach the store on 0131 549 8820.
Please download and print this form, so that we have all the information that we need. If you don't have a printer, don't worry. We can provide you with the form when you arrive. But remember, we can't let you on the premises. I'm sorry, but this is the only way that we can carry out the repairs.
---
On the 23rd August 2011, we opened the fifth SimplyFixIt repair centre in Stockbridge, on Raeburn place. It was the first of our stores to display our new branding, including blue paintwork on the exterior. Our SimplyFixIt Stockbridge shop repairs Apple Mac products; including iPhones, iPads, MacBook devices and iMac desktops. We specialise in out-of-warranty repairs and fix cracked screens as well as liquid damage.
The SimplyFixIt Stockbridge team can advise you on what needs repaired on your Apple product and organise a speedy repair, to get you back up and running quickly. We do our repairs in-house, so we're not only cheaper, but we're much faster than the Apple store too.
SimplyFixIt at Stockbridge is rated 4.7 out of 5, by 982 customers.
---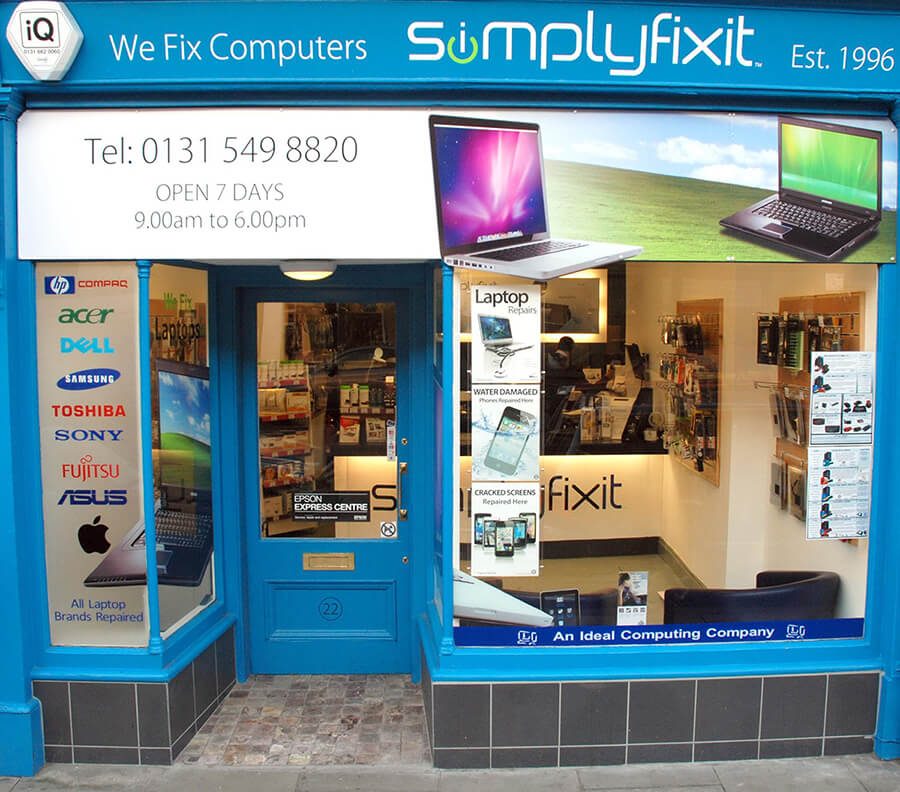 Drop-off Times during Lockdown.
Monday:

09:00 – 18:00

Tuesday:

09:00 – 18:00

Wednesday:

09:00 – 18:00

Thursday:

09:00 – 18:00

Friday:

09:00 – 18:00

Saturday:

Closed

Sunday:

Closed
Show map & directions.
SimplyFixIt Stockbridge has a selection of Apple iPhone & iPhone accessories in stock, including cases, wireless keyboards and cables.
About the area:
History:
Stockbridge takes its name from the Scots words "stocc brycg" meaning a timber foot bridge after the original bridge that crossed the Water of Leith to the small village. Raeburn Place was the location of the first ever international rugby match when Scotland played England in the Edinburgh Academy grounds. Another fact that you might not be aware of is that the movie Mrs Doubtfire was named after a famous resident, Madame Doubtfire who ran a second-hand clothes shop in the area.