There are so many different versions of the iPad that it can be hard to know which one that you have. This guide should help. On the back of every iPad there is a Model Number, which starts with "A", e.g. A1474. Once you have that number, you can get the correct generation of iPad from the list below.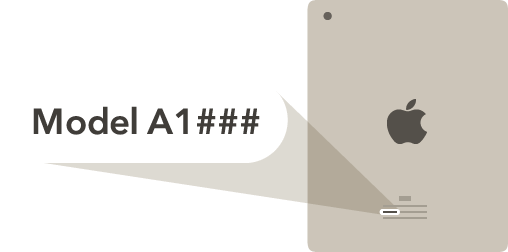 ---
Identifying features
See below for product specifications.
iPad Pro 9.7-inch
Year: 2016
Capacity: 32, 128, 256 GB
The model number on the back cover:

A1673 on the iPad Pro
A1674 or A1675 on the iPad Pro

Wi-Fi +

Cellular

White or black front bezel
9.7-inch Retina display
Silver, space gray, gold, or rose gold aluminium housing
Smart Connector
Lightning connector
The nano-SIM tray is on the right side on iPad Pro

Wi-Fi +

Cellular
FaceTime HD camera and iSight camera with flash
Touch ID
Four-speaker audio
iPad Pro buttons and connectors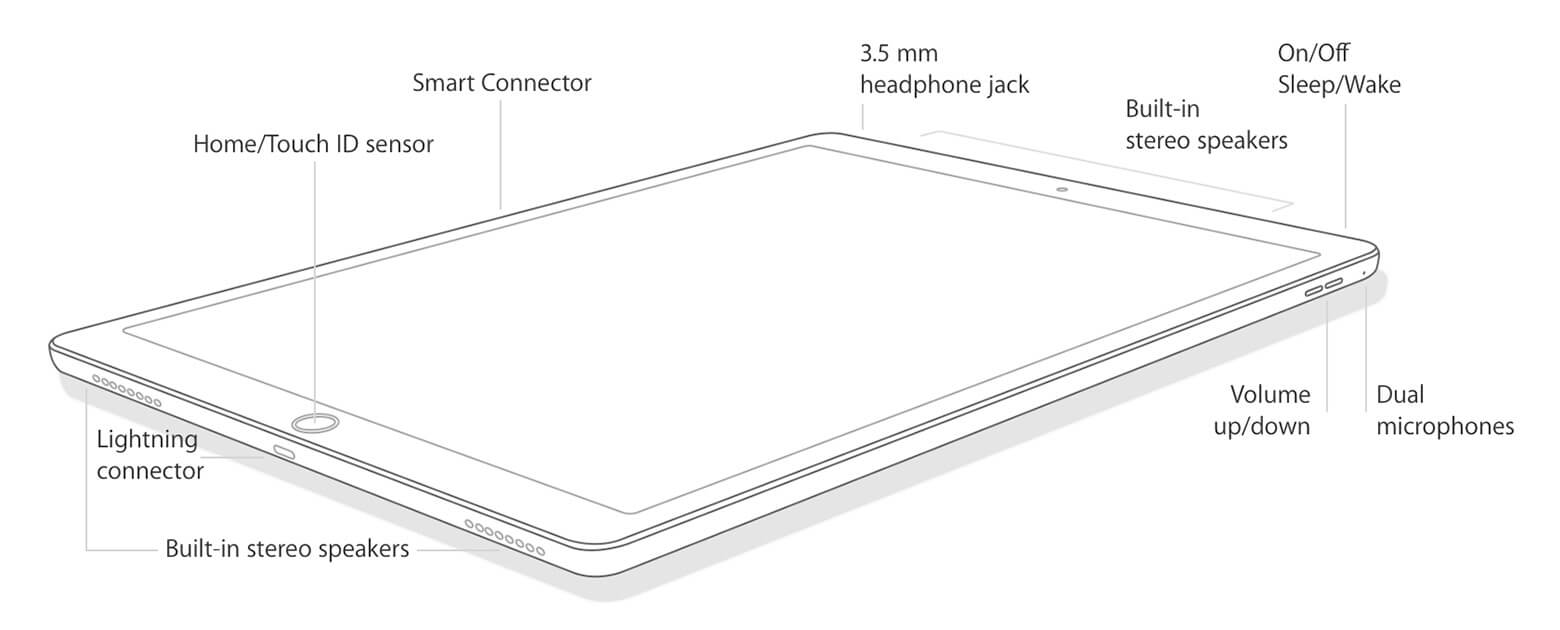 ---
iPad Pro 12.9-inch
Year: 2015
Capacity: 32, 128 GB
The model number on the back cover:

A1584 on the iPad Pro
A1652 on the iPad Pro

Wi-Fi +

Cellular

White or black front bezel
12.9-inch Retina display
Silver, space gray, or gold aluminium housing
Smart Connector
Lightning connector
The nano-SIM tray is on the right side on iPad Pro

Wi-Fi +

Cellular
FaceTime HD and iSight cameras
Touch ID
Four-speaker audio
iPad Pro buttons and connectors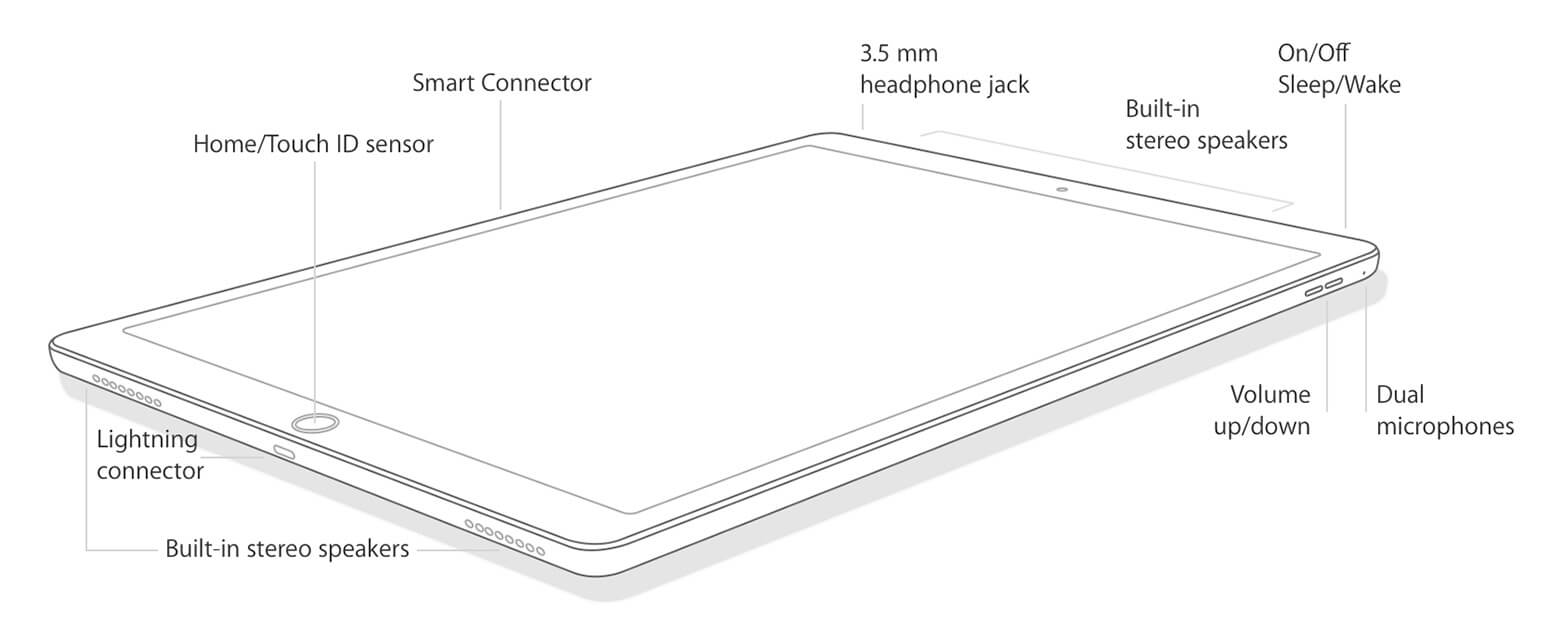 ---
iPad mini 4
The model number on the back cover is:

A1538 on the iPad mini 4
A1550 on the iPad mini 4

Wi-Fi +

Cellular

White or black front bezel
7.9-inch Retina display
Silver, space gray, or gold aluminium housing
Lightning connector
The nano-SIM tray is on the right side on iPad mini 4

Wi-Fi +

Cellular
FaceTime HD and iSight cameras
Touch ID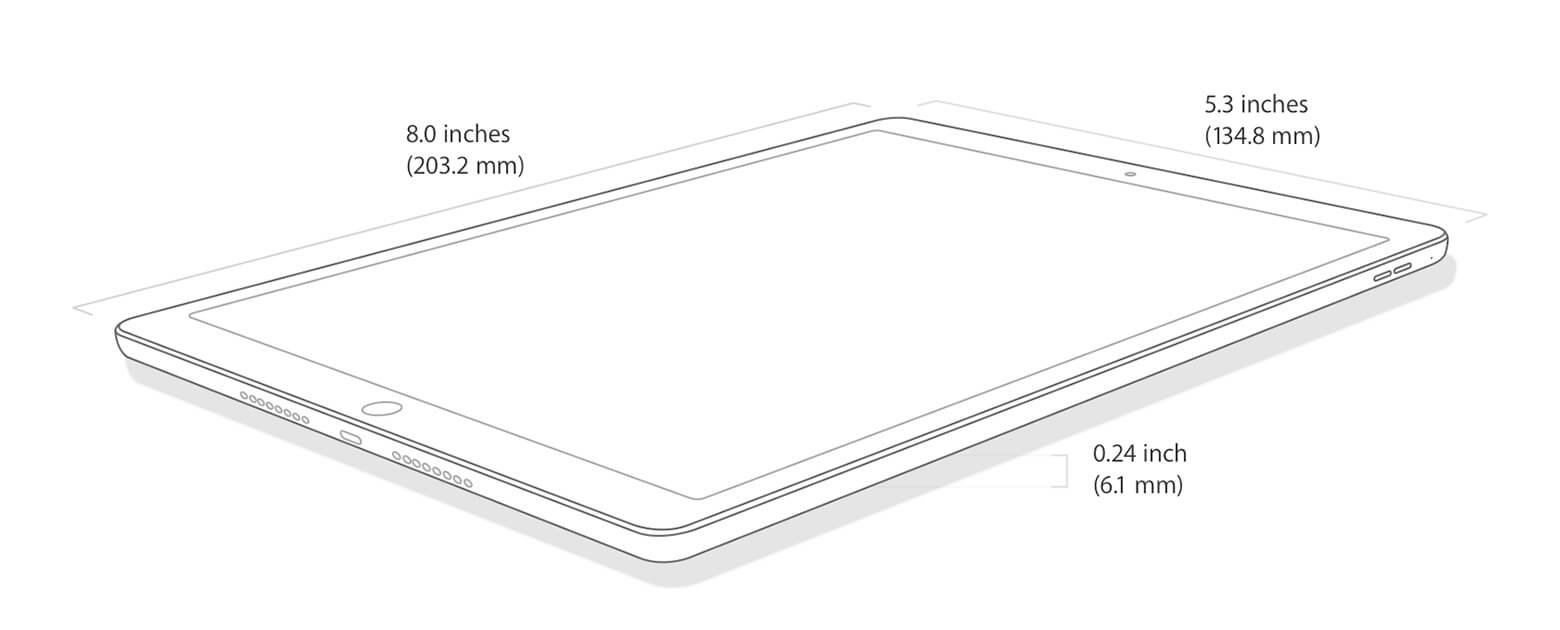 iPad mini 4 buttons and connectors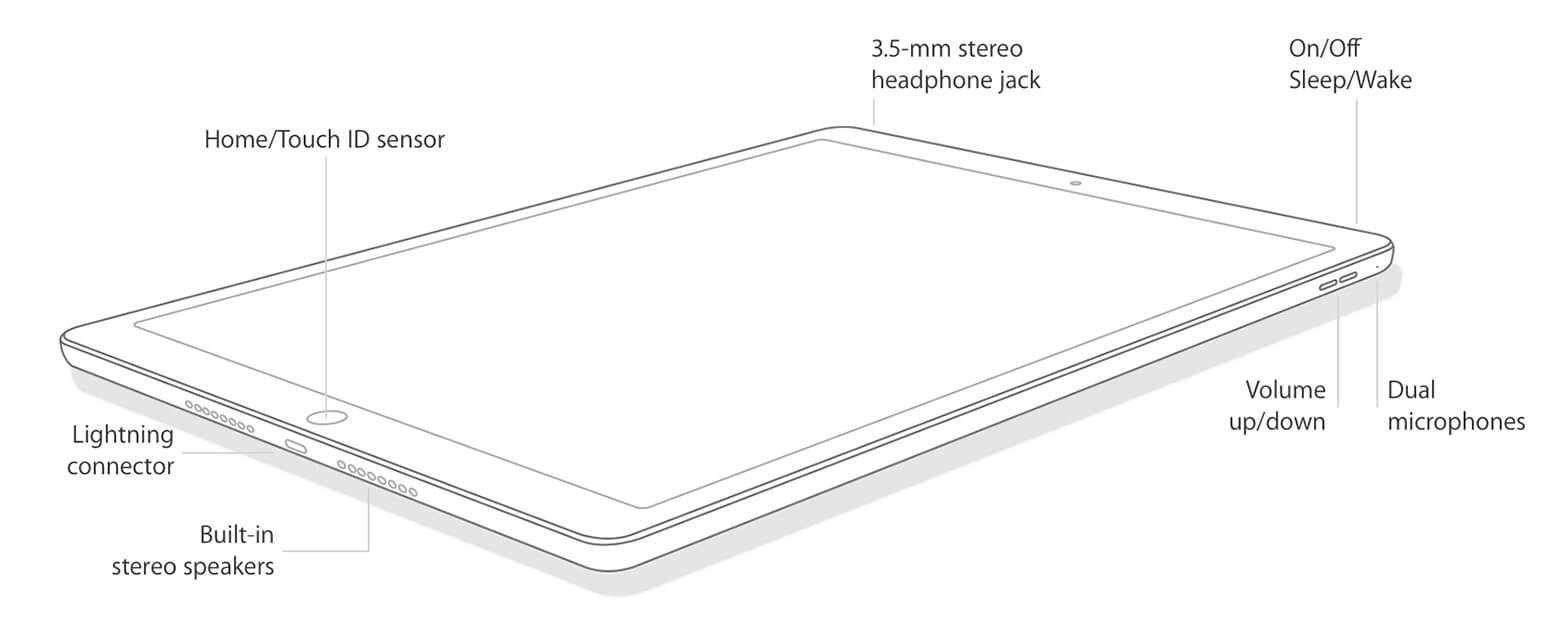 ---
iPad Air 2
The model number on the back cover is:

A1566 on the iPad Air 2
A1567 on the iPad Air 2

Wi-Fi +

Cellular

White or black front bezel
9.7-inch Retina display
Silver, space gray, or gold aluminium housing
Lightning connector
The nano-SIM tray is on the right side on iPad Air 2

Wi-Fi +

Cellular
FaceTime HD and iSight cameras
Touch ID

iPad Air 2 buttons and connectors

---
iPad mini 3
The model number on the back cover is:

A1599 on the iPad mini 3
A1600 on the iPad mini 3

Wi-Fi +

Cellular

White or black front bezel
7.9-inch Retina display
Silver, space gray, or gold aluminium housing
Lightning connector
The nano-SIM tray is on the left side on iPad mini 3

Wi-Fi +

Cellular
FaceTime HD and iSight cameras
Touch ID

iPad mini 3 buttons and connectors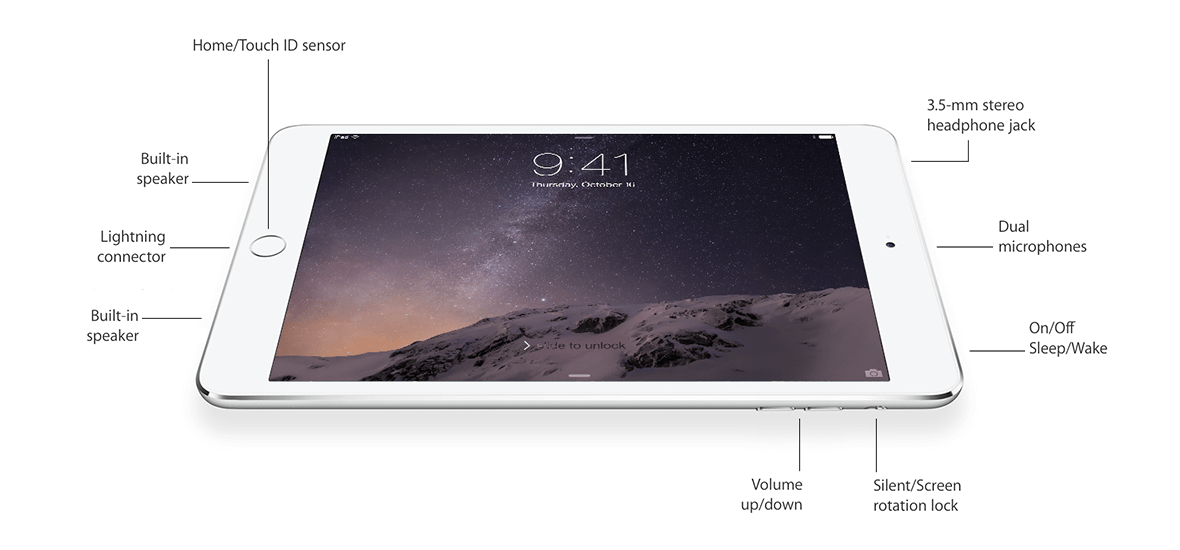 ---
iPad Air
The model number on the back cover is:

A1474 on the iPad Air Wi-Fi
A1475 on the iPad Air

Wi-Fi +

Cellular
A1476 on the iPad Air

Wi-Fi +

Cellular (TD-LTE)

White or black front bezel
9.7-inch Retina display
Silver or space gray aluminium housing
Lightning connector
The nano-SIM tray is on the right side on iPad Air

Wi-Fi +

Cellular
FaceTime HD and iSight cameras
iPad Air Specifications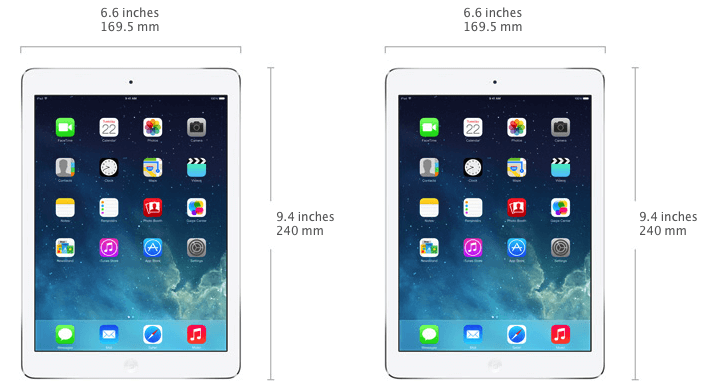 iPad Air buttons and connectors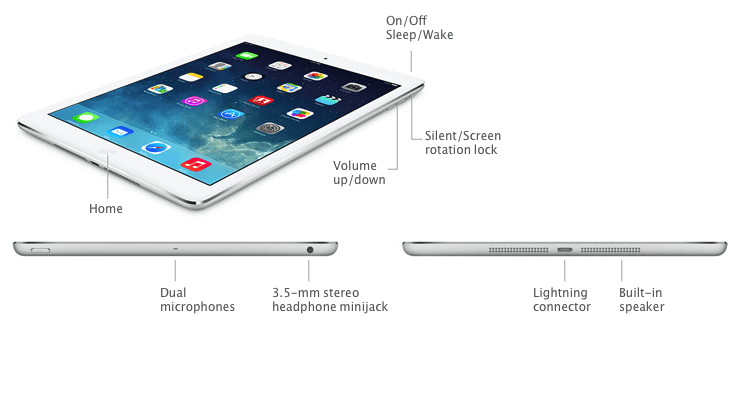 ---
iPad mini 2
The model number on the back cover is:

A1489 on the iPad mini 2 with Retina display Wi-Fi
A1490 on the iPad mini 2 with Retina display

Wi-Fi +

Cellular
A1491 on the iPad mini 2 with Retina display

Wi-Fi +

Cellular (TD-LTE)

White or black front bezel
7.9-inch Retina display
Silver or space gray aluminium housing
Lightning connector
The nano-SIM tray is on the left side on iPad mini 2 with Retina display

Wi-Fi +

Cellular
FaceTime HD and iSight cameras
iPad Mini 2 size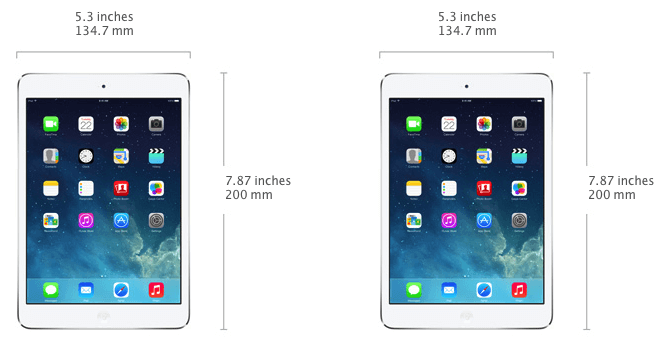 iPad mini 2 buttons and connectors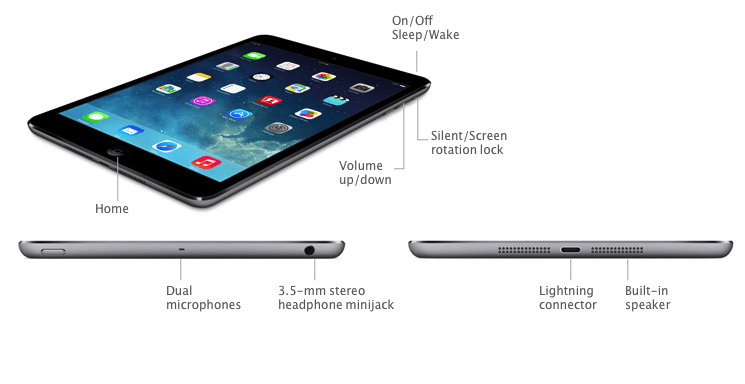 ---
iPad (4th generation)
The model number on the back cover is:

A1458 on the iPad (4th generation) Wi-Fi
A1459 on the iPad (4th generation)

Wi-Fi +

Cellular
A1460 on the iPad (4th generation)

Wi-Fi +

Cellular (MM)

White or black front bezel
9.7-inch Retina display
Lightning connector
The micro-SIM tray is on the right side on iPad (4th generation)

Wi-Fi +

Cellular
FaceTime HD and iSight cameras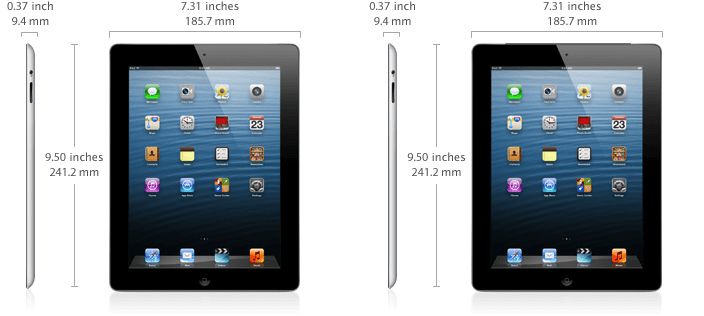 iPad (4th generation) buttons and connectors

---
iPad mini
The model number on the back cover is:

A1432 on the iPad mini Wi-Fi
A1454 on the iPad mini

Wi-Fi +

Cellular
A1455 on the iPad mini

Wi-Fi +

Cellular (MM)

White or black front bezel
Silver or slate aluminium housing
Lightning connector
The nano-SIM tray is on the left side on iPad mini

Wi-Fi +

Cellular
FaceTime HD and iSight cameras

iPad Mini Specifications

iPad mini buttons and connectors

---
iPad (3rd generation)
The model number on the back cover is:

A1416 on the iPad (3rd generation) Wi-Fi
A1430 on the iPad (3rd generation)

Wi-Fi +

Cellular
A1403 on the iPad (3rd generation)

Wi-Fi +

Cellular (VZ)

White or black front bezel
30-pin connector
The micro-SIM tray is on the right side on iPad (3rd generation)

Wi-Fi +

Cellular
FaceTime and iSight cameras
---
iPad 2
The model number on the back cover is:

A1395 on the iPad 2 (Wi-Fi)
A1396 on the iPad 2 (GSM model)
A1397 on the iPad 2 (CDMA model)

White or black front bezel
30-pin connector
The micro-SIM tray is on the right side on iPad (GSM model only)
FaceTime and rear cameras
---
iPad
The model number on the back cover is:

A1219 on the iPad (Wi-Fi)
A1337 on the iPad (Wi-Fi + 3G)

Black front bezel
30-pin connector
Standard SIM tray on the iPad (Wi-Fi + 3G)