You know that feeling when your smart-phone plummets towards the toilet? Well, say hello to "Reviveaphone", a new product that was featured on BBC's Dragon's Den in January 2014.
Reviveaphone claims to rescue and restore any smart-phone, camera or other gadget that has fallen into a toilet, pint or a swimming pool.
20-year-old Oliver Murphy from Chelmsford, Essex, impressed dragon Kelly Hoppen enough that she invested £50,000 in his business.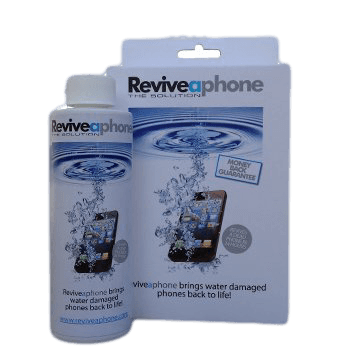 The kit consists of a sealable pouch, a plastic drying tray and a bottle of cleaning solution. When your phone or other gadget gets wet, you put it in the pouch with the chemical solution for 7 minutes, then stick it in the plastic tray to dry. Did I say, make sure you turn it off as fast as possible after it gets wet?
The cleaning solution removes any mineral deposits that were in the liquid, and are causing corrosion on your phone as we speak. It's designed to work up to a month after your phone has been for a swim but the faster you can get your phone into it, the better, so I'd even consider buying one "just in case."
Does it work?
So now the acid — or rather water — test: does it work? The company are so convinced that it does work, that they are willing to offer a money back guarantee to anyone who uses it and their phone isn't fixed. So I'd say it's a pretty low risk option if your phone does get wet.
---
WILL IT WORK FOR ME?
– 4 SIMPLE STEPS –
HAVE YOU CHARGED YOUR PHONE?
The Reviveaphone repair kit is not guaranteed to work for everyone. (Mainly because it's not possible to guarantee that a liquid damaged smart-phone can definitely be fixed.) But, to help you understand your chances of success, please answer these questions. (There's only 4, don't worry)
---
---
Dropping the iPhone 6 into beer.
The release of the iPhone 6 was eagerly anticipated all around the world. But Reviveaphone and one Apple fan went to great lengths to ensure that he was the first to get his hands on one. He flew from Canada to Australia for the launch, just so he could drop the first iPhone 6 into a pitcher of beer. Musician Michael Mooney spent 22 hours on a plane so he could be the first to buy an iPhone in Brisbane, even paying the first people in the queue of 2,000 to hand over their handset. Please note that the video contains some swear words. So, it's probably not safe to show in front of your boss or your mum.