Printer ink can be expensive. But at SimplyFixIt we want to make it as cheap as possible for you. (and that doesn't mean messy refills). We pay you to recycle your old cartridges and we have advice on when it's economical to swap your old printer for a new more efficient one.
Get paid to recycle.
Every year in the UK, 45 million ink cartridges get sent to land-fill sites. These cartridges take up to 1,000 years to decompose!.
Those 45 million cartridges binned each year could...
Cover Old Trafford football pitch 17 times.
Build a brand new Blackpool Tower.
Cover Brighton Pier ten times, which would stretch 3 miles out to sea.
Stretch the length of Hadrian's Wall 15 times - 73 miles!
So every time you recycle your empty cartridge we will discount your new cartridges by 50p.
Why we don't sell printer ink refills.
It sounds like the perfect solution. Use a bottle of generic ink and fill up empty cartridges. It's cheap and nothing can go wrong, right? We fix a lot of printers. We're the official repair partner for Epson in Edinburgh, so we see what cheap refill ink does to a printer. Generally the liquid (I'm not sure I can even call it ink) is so thin that it leaks out of the nozzles into the insides of the printer. This liquid causes corrosion inside the printer and will cause it to fail. So you may save a few pounds on a cartridge but your printer's life span will be reduced. It's just not worth it. The alternative is that a 3rd party company fills cartridges with "compatible" ink. There is a wide range of quality with this market. But there are some really good options.
"Compatible" ink cartridges
A Compatible cartridge is one that is made or filled by someone other than the original printer manufacturer. The problem is that this covers a lot of different options. It could be that a company is just refilling old cartridges with the same thin ink that we talked about earlier. Or it could be a factory that actually makes the ink for Epson or HP making their own branded cartridges. Generally if you see ink where the price is too good to be true, it is.
SimplyFixIt only stocks compatible ink where we have seen that the ink is almost as good as the original. We say almost as good, because the truth is that the original ink is always the best. Most of the big names, Epson, HP, Kodak, have a cleaning agent in the ink, which actually unblocks the nozzles as you print. Plus, it lasts longer. Not in terms of the number of pages it prints, but how long that page lasts. If you are printing photos, then we'd recommend that you use the original printers manufacturer's ink every time. But for general day-to-day printing, especially if you are printing black text, then you should be able to use a good quality compatible cartridge. Every 3-4 cartridges use an original, just to get some of the benefit of the cleaning agents.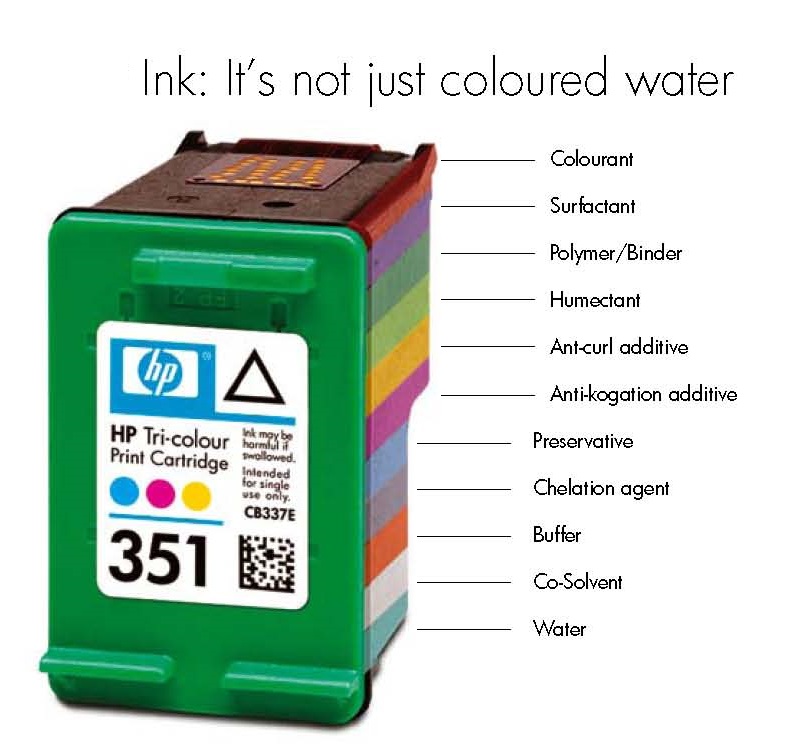 | Ingredient | What it does |
| --- | --- |
| Colourant | Dye or pigment. |
| Surfactant | Helps produce the perfect shaped drop of ink. |
| Polymer / Binder | For improved fade resistance. |
| Humectant | Prevents ink evaporation. |
| Anti-curl additive | Reduces paper curling. |
| Anti-kogation additive | Prevents clogging of the print head. |
| Preservative | Improves ink reliability. |
| Chelation agent | Holds all the ingredients suspended in the ink. |
| Buffer | Keeps the ink PH constant. |
| Co-solvent | Keeps the colourant stable. |
| Water | The vehicle for everything else. |
What brands of ink do we stock.
We have the widest range of original ink cartridges in Edinburgh. We don't just stock ink for the printers that are on sale today. So we stock ink for
Epson,

HP,

Kodak,

Canon,

Dell,

Lexmark.
What's the cost?
We check our prices every week with the supermarkets to make sure that we are amongst the cheapest. Then we discount the ink price further, when you recycle your empty cartridges. So you can support a local company by buying your ink from them, and save money too.
Our biggest range of ink is in our Bruntsfield Store, but we sell ink in all of our 1 stores, including Stockbridge and Glasgow Road. So there's no need to wander around the huge PC World warehouse anymore looking for ink.