On the , the third SimplyFixIt Repair Centre opened on the High St in Dalkeith. It is your local PC and Laptop Repair Centre for Dalkeith and the surrounding areas, including Bonnyrigg, Loanhead and Eskbank. At the store, we provide a full service on your laptop or Apple Mac to identify what needs to be repaired or upgraded. The store is unique in Midlothian in that it has technicians who have been certified by both Apple and Microsoft, so they are qualified to work on either platform.
SimplyFixIt at Dalkeith is rated 4.8 out of 5, by 550 customers.
iPhone Repairs
SimplyFixIt in Dalkeith is unique in the area in that it can offer high quality iPhone repairs, including offering genuine Apple screens. We are the only independent company in the area who uses Apple Certified Technicians to do the repairs, and we offer 12-month's warranty on screen repairs, compared with the 3-month warranty that Apple offers. If you want your iPhone fixed properly then SimplyFixIt in Dalkeith is the place to go.
Slow laptop?
Is your laptop running slowly? We specialise in speeding up Microsoft Windows computers and laptops. You would be amazed just how fast your laptop can be after a visit to our store in Dalkeith. It will easily outperform many of the cheaper laptops that places like PC World are trying to sell. We are so confident that you will be amazed at how fast your laptop will be, that we will give you your money back if you're not impressed. (We offer a 14-day money back guarantee where we'll can swap the upgraded parts back for your original).
---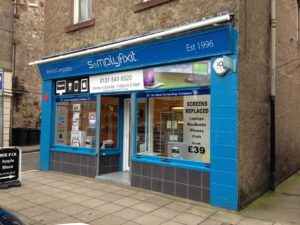 Opening Hours.
Monday: 09:00 – 18:00
Tuesday: 09:00 – 18:00
Wednesday: 09:00 – 18:00
Thursday: 09:00 – 18:00
Friday: 09:00 – 18:00
Saturday: 09:00 – 18:00
Sunday: Closed
Show map & directions.
Where are we?
The shop is a couple of doors down from the Cavaliere Restaurant, right beside Paterson SA Hairdressers.
History:
Dalkeith itself, is a town with a proud and ancient past. It was mentioned in the Chronicles of Jean Froissart, written in the 1360's, although Dalkeith Palace was built in the 12th century and Dalkeith grew south-westwards from that.