On the the third SimplyFixIt Repair Centre opened on the High St in Dalkeith. It is your local PC and Laptop Repair Centre for Dalkeith and the surrounding areas, including Bonnyrigg, Loanhead and Eskbank. At the store, we provide a full service on your laptop or Apple Mac to identify what needs to be repaired or upgraded. The store is unique in MidLothian in that it has technicians who have been certified by both Apple and Microsoft, so they are qualified to work on either platform. It is also an Epson Express Centre, which means that we can carry out warranty repairs on Epson printers, even if they were bought elsewhere.
Slow laptop?
Is your laptop running slowly? We specialise in speeding up Microsoft Windows computers and laptops. You would be amazed just how fast your laptop can be after a visit to our store in Dalkeith. It will easily outperform many of the cheaper laptops that places like PC World are trying to sell. We are so confident that you will be amazed at how fast your laptop will be that we will give you your money back if you're not blown away. (It goes without saying that there are Terms & Conditions, so please speak with your technician about this before proceeding).
Mobile Repairs
In terms of Mobile devices, SimplyFixIt in Dalkeith offers high quality iPhone & iPad repairs. We are the only independent company in the area who use Apple Certified Technicians to do the repairs and we offer the best warranty in the country. As standard we offer 12-Months warranty on all iPhone & iPad repairs. We are also able to offer Mobile Shield™ warranty on iPhone & iPad screen repairs. That's the only accidental damage warranty available on broken screens. You can protect your screen so that all screen repairs are free for up to 12 months after the repair for only 7p per day (£25 for a year). There's nothing else to pay. If your screen breaks, we fix it for free! So, just bring your broken device into the Dalkeith branch and one of our technicians will advise you on the best option.
---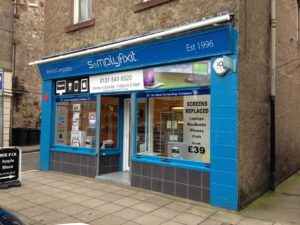 Opening Times.
Monday:

09:00 – 18:00

Tuesday:

09:00 – 18:00

Wednesday:

09:00 – 18:00

Thursday:

09:00 – 18:00

Friday:

09:00 – 18:00

Saturday:

09:00 – 18:00

Sunday:

closed
Show map & directions.
Where are we?
The shop is a couple of doors down from the Cavaliere Restaurant, right beside Paterson SA Hairdressers.
About the area:
SimplyFixIt in Dalkeith was our first store outside of Edinburgh. It is the Epson Express Centre for Midlothian, which means that you can bring your in-warranty Epson printer for a free repair, no matter where you bought it. Call us for more information on 0131 549 8820
History:
Dalkeith itself, is a town with a proud and ancient past. It was mentioned in the Chronicles of Jean Froissart, written in the 1360s, although Dalkeith Palace was built in the 12th century and Dalkeith grew southwestwards from that.
---