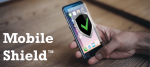 Accidental Damage protection for your screen.
So the worst thing has happened. You have broken the screen on your iPhone or iPad. But never fear, SimplyFixIt have come to the rescue and put a brand new screen on there. Crisis over.
You swear that in future, you will protect your iPhone like it was made of glass. But one day you're standing there minding your own business, reading your tweets when it slips out of your hands and breaks again. What are you supposed to do now?
Apple Beating Warranty
Up to now, all iPhone & iPad repair companies have expected you to pay again. Apple expect you to pay again. But at SimplyFixIt we want to be the best, so we looked at this from a customer point of view. How good would it be if the 90-day warranty included accidental damage to the screen? We think that it would be amazing. So that'€™s what we'€™re offering. The only warranty of its kind in the UK, offering protection against accidental damage. It's called Mobile Shield™ and PC Retail magazine, which is the industry bible for computer repair companies in the UK, described it as an Apple beating warranty.
Accidental damage warranty
From today, , all iPhone & iPad screen repairs will have the option of upgrading your warranty to 1-year accidental damage protection for only £25.
That'€™s 12-month protection for your screen, no matter what happens. If it falls and smashes, we€'ll fix it for free. If you stand on it, we'€™ll fix it for free. If you break your iPhone screen by perching it above the elliptical trainer, so that you can work out and watch "Family Guy" clips, and the earphone cord snags, hurtling the iPhone to the ground, we'€™ll fix that screen for free.
| | Standard Warranty | Mobile Shield™ | Apple Care+ |
| --- | --- | --- | --- |
| Length of Cover | 90 Days | 12 Months | 24 Months |
| Incidents of Accidental Damage | 0 | 3 | 2 |
| Excess you need to pay | 0 | 0 | £25 |
| Cost of Cover | 0 | £25 | £119 |
Only SimplyFixIt offers you
Apple Certified Technicians.
High quality parts.
Mobile Shield.
Read some more about SimplyFixIt.
---
Small Print.
Unfortunately there is always small print, so please ensure that you read the following.
The Mobile Shield™ warranty applies to iPhones (3G, 3GS, 4, 4S, 5, 5c, 5s, 6 & iPhone SE) and iPads (iPad 1, 2, 3, 4, Air & iPad Mini) only. This warranty covers a maximum of 1 repair in the first 90 days or 3 repairs in a 12 month period. If you break your screen more than 3 times a year then I have some really good military-quality cases you should consider! This warranty covers iPhones or iPads where we have repaired the screen originally. If you have had your home button repaired by us, I'm afraid that the warranty doesn't cover the screen. Obvious I know, but it'€™s good to make things clear. This applies to walk-in repairs only. If you post your iPhone or iPad to us for a repair, you may have some postage to pay.