When Microsoft Windows Vista first launched, many people compared how it performed to XP and being extremely disappointed with the results.
Vista was described as generally rough around the edges. Microsoft have been boasting over the past few months how their new operating system, Windows 8 has numerous improvements in performance.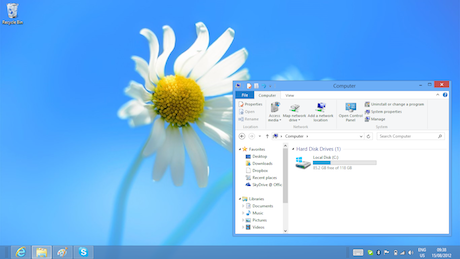 On the final release of Windows 8, clicking the bottom-left corner of the screen (where the Start button used to be located), launches the new (previously known as 'Metro') interface. The tile-based interface is a brand new interface, different from any previous Windows desktop and more familiar to those users who own smartphones with a Windows Phone operating system installed. It has been reported that many users have struggled to get their hands around the new interface.
From the two previews and the final release of Windows 8, the operating system appears smoother than Windows 7. It has been reported widely that Windows 8 starts up and shuts down faster.
Technology news website, TechSpot, measured and tested the performance of various aspects of the operating system including:
Boot up and shutdown times
File copying
Encoding
Browsing
Gaming
and some synthetic benchmarks.
We've chosen to display the results that we consider most appropriate for our customers.
Benchmarking Test – High System Specs
All benchmarks were conducted using a system which features the Intel Core i7-3960X processor, 16GB of DDR3-1866, a GeFore GTX 670, Asrock X79 Extreme11 motherboard, Samsung Spinpoint F1 1TB and Kingston SSDNow V+ 200 256GB SSD.
Startup Time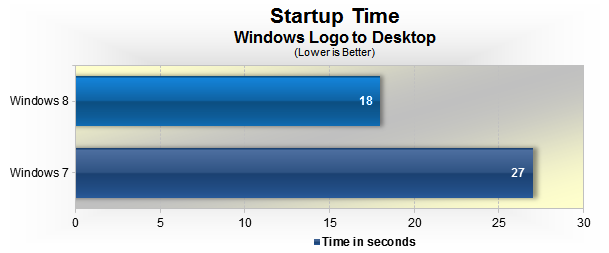 Startup time decreased from 27 seconds in Windows 7 to just 18 seconds in Windows 8. SSD users will be able to load Windows 7 in a matter of a few seconds.
Shutdown Time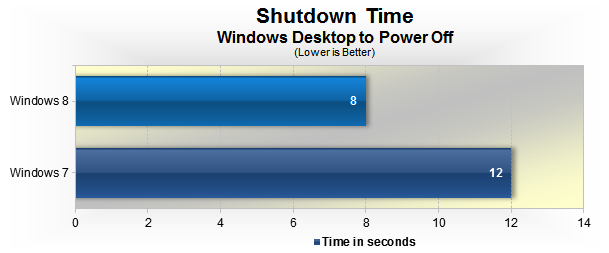 A similar improvement was seen in shutdown time, going from 12 seconds in Windows 7 to 8 seconds in Windows 8.
Using Microsoft Excel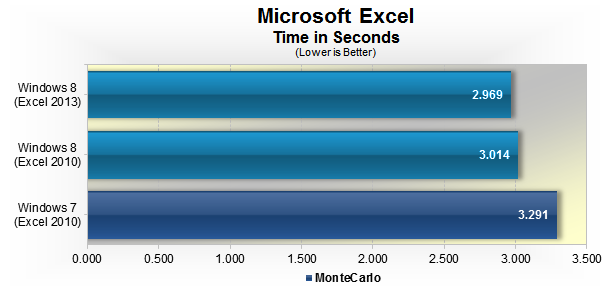 Comparing Windows 8 installed with the new Office 2013 suite TechSpot found that it was 10% faster when running the Excel MonteCarlo test against to Windows 7 using Office 2010. Note this test in particular is not like for like.
Gaming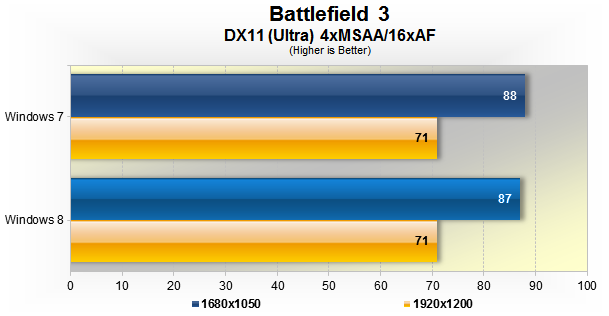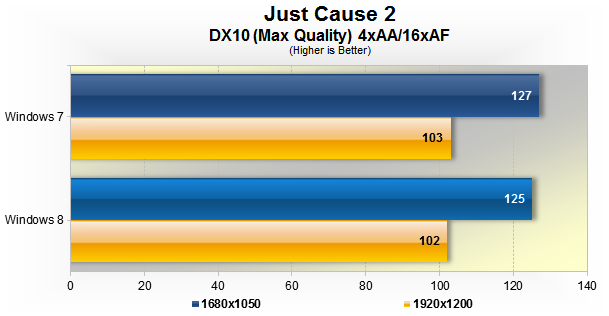 Finishing up TechSpot looked at gaming performance using Just Cause 2 and Battlefield 3. These games rely on graphics drivers more than anything else. As you can see both operating systems provide similar performance with a very slight edge to Windows 7′s advantage.
Benchmarking Test – Budget System Specs
Tests were also ran using a lower-end system using a AMD Athlon II X4 645 processor with 4GB of memory and a Radeon HD 6570 graphics card.
Using Microsoft Excel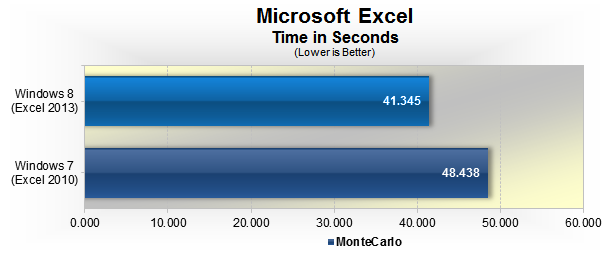 Whereas previously Windows 8 with Excel 2013 was 10% faster than Windows 7 using Excel 2010, TechSpot found that with lower-end hardware this margin increased, Windows 8/Excel 2013 is now 15% faster.
Gaming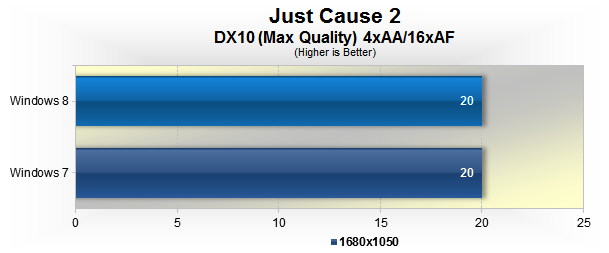 No difference on gaming performance was recorded between the two operating systems.
Verdict
Windows 8 offers a better performance overall, although there are only a few select areas where it is considerably faster than Windows 8. However, what Windows 8 doesn't improve on compared to Windows 7 – it matches.
Looking beyond benchmarks, Windows 8 appears a more polished operating system than Windows 7, even if you deviate away from the 'Metro' interface to the traditional Windows desktop. General usage is smoother and it also appears to be faster on Windows 8.