Everybody wants a Macbook. When you look around in your local coffee shop, it's easily the most popular computer around. Students love them because they are reliable, fast and they don't get computer viruses. But they can be expensive. A new Macbook Pro costs at least £999, a new Macbook Air costs £899.
Refurbished by Apple Certified Technicians
Our team of Apple certified technicians professionally refurbishes Macbooks that have either been preowned or in some cases have clearly just been sat in a warehouse for a year. We test each one and make sure that it works exactly as you'd expect. Then we install the latest version of OS X.
Buying for Christmas?
Buying a second hand Macbook is a great way to give some a great (I know that's a lot of greats) computer, while saving money compared to the prices that Apple charge. We keep our range of Macs fresh, so you're not buying old models. They come with 3 month warranty as standard, which can be extended to 12 months. But buying a computer in December, and not giving the present until Christmas Day, can mean that the recipient loses some time on their warranty. That doesn't seem fair. So any second-hand MacBooks or iMacs bought from SimplyFixit in December 2015 will have warrranty that runs until as standard.
We have a very wide range of second-hand Apple Mac computers to choose from, 13 and 15-inch MacBooks and 21 and 27-inch iMac computers. Here are the details of 2 of the most popular models but the warranty extension covers all of the range.
Macbook Air
We have the 2014 model of the Macbook Air for £599 in stock at SimplyFixIt in Bruntsfield or at your local SimplyFixit. That's a £300 discount and it's practically the latest model.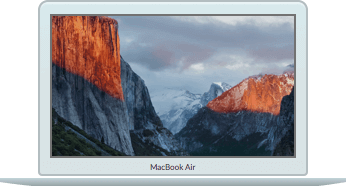 Technical Specifications
Display

13.3-inch (diagonal) LED-backlit glossy widescreen display with support for millions of colours.
Supported resolutions: 1440 by 900 (native), 1280 by 800, 1152 by 720, and 1024 by 640 pixels at 16:10 aspect ratio and 1024 by 768 and 800 by 600 pixels at 4:3 aspect ratio

Storage

128GB PCIe-based flash storage

Processor

1.4GHz dual-core Intel Core i5 (Turbo Boost up to 2.7GHz) with 3MB shared L3 cache.

Memory

4GB of 1600MHz LPDDR3 onboard memory

Size and Weight

Height: 0.11-0.68 inch (0.3-1.7 cm)
Width: 12.8 inches (32.5 cm)
Depth: 8.94 inches (22.7 cm)
Weight: 2.96 pounds (1.35 kg)
Macbook Pro
We have the non-retina model of the Macbook Pro, which is the last one that had a DVD drive and allowed the RAM to be upgraded for only £599 in stock at SimplyFixIt in Bruntsfield or at your local SimplyFixit. Apple had this exact laptop for sale right up to October 2015 for £899, with a smaller hard drive than we offer. So there's over £300 discount with this model. Plus it is designed to last for years. It allows the Memory and the hard drive to be upgraded now or in the future. The latest retina models of the Macbook Pro don't allow for either of these.
Display

113.3-inch (diagonal) LED-backlit glossy widescreen display with support for millions of colours
Supported resolutions: 1280 by 800 (native), 1152 by 720, 1024 by 640, and 800 by 500 pixels at 16:10 aspect ratio; 1024 by 768, 800 by 600, and 640 by 480 pixels at 4:3 aspect ratio; 1024 by 768, 800 by 600, and 640 by 480 pixels at 4:3 aspect ratio stretched; 720 by 480 pixels at 3:2 aspect ratio; 720 by 480 pixels at 3:2 aspect ratio stretched.

Storage

1,000GB hard drive.
Storage Options:

128GB solid-state drive
256GB solid-state drive
512GB solid-state drive

Processor

2.5GHz dual-core Intel Core i5 processor (Turbo Boost up to 3.1GHz) with 3MB L3 cache.

Memory

4GB of 1600MHz DDR3 memory.
Memory Options:

8GB of 1600MHz DDR3 memory.
16GB of 1600MHz DDR3 memory.

Size and Weight

Height: 0.95 inch (2.41 cm)
Width: 12.78 inches (32.5 cm)
Depth: 8.94 inches (22.7 cm)
Weight: 4.5 pounds (2.06 kg)