What's new in iOS 11 - the new software which is being developed for the iPhone and iPad?
Apple has released the first iOS 11 public beta for iPhone and iPad. This allows users (who are not registered developers) to test pre-release this version of iOS with new features for free! Today we're going to explain some of the biggest changes that iOS 11 will bring.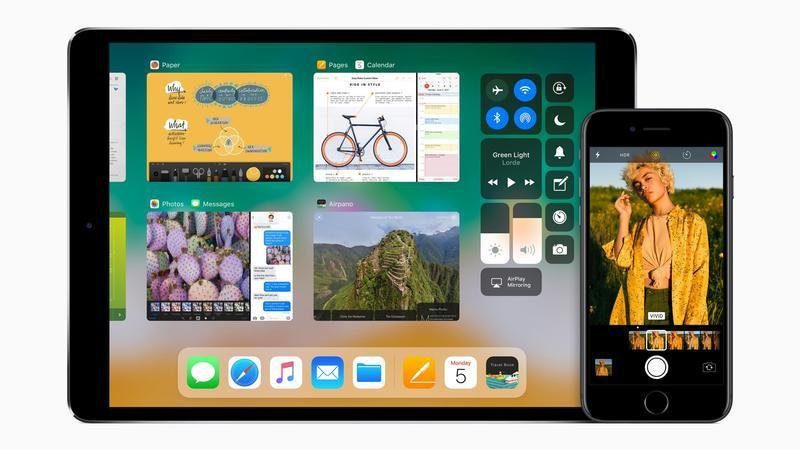 Interface
Most of iOS 11's layout remains the same as in iOS 10. But you will begin to discover some excellent tweaks after a bit of playing around.
The Lock Screen is easier to access
This is probably the change which you'll notice first and foremost.
In iOS 10 the Lock Screen and Notifications are two separate screens; the Lock Screen shows first of all when you use Lift To Wake (or press your Lock/Home button), while notifications has to be consciously swiped down from the top of the screen. Here's how that looks in iOS 10: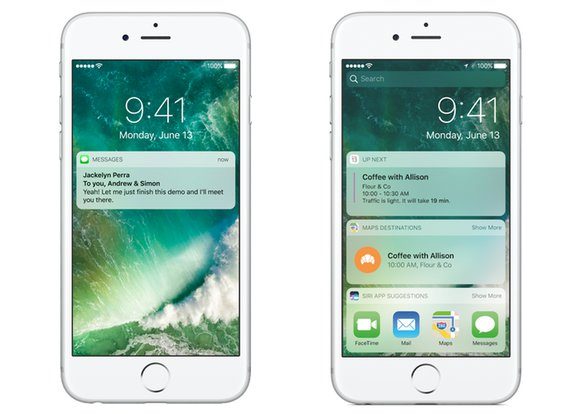 In iOS 11 the two have been combined into a single feature, although it's still split across two screens which you can swipe between. From anywhere in the OS you can swipe down to bring up the Lock Screen. That's instead of notifications as before. From there, you can then swipe up to bring up the notifications menu. This may be a bit confusing to begin with, but having easier access to the Lock Screen, instead of having to turn the device off and then on again, sounds great.
Control Centre
The Control Centre, which you access by swiping up (from anywhere in the OS except for the Lock Screen) has been redesigned too. iOS 11 now squeezes all of the normal (and desired) Control Centre features into one page.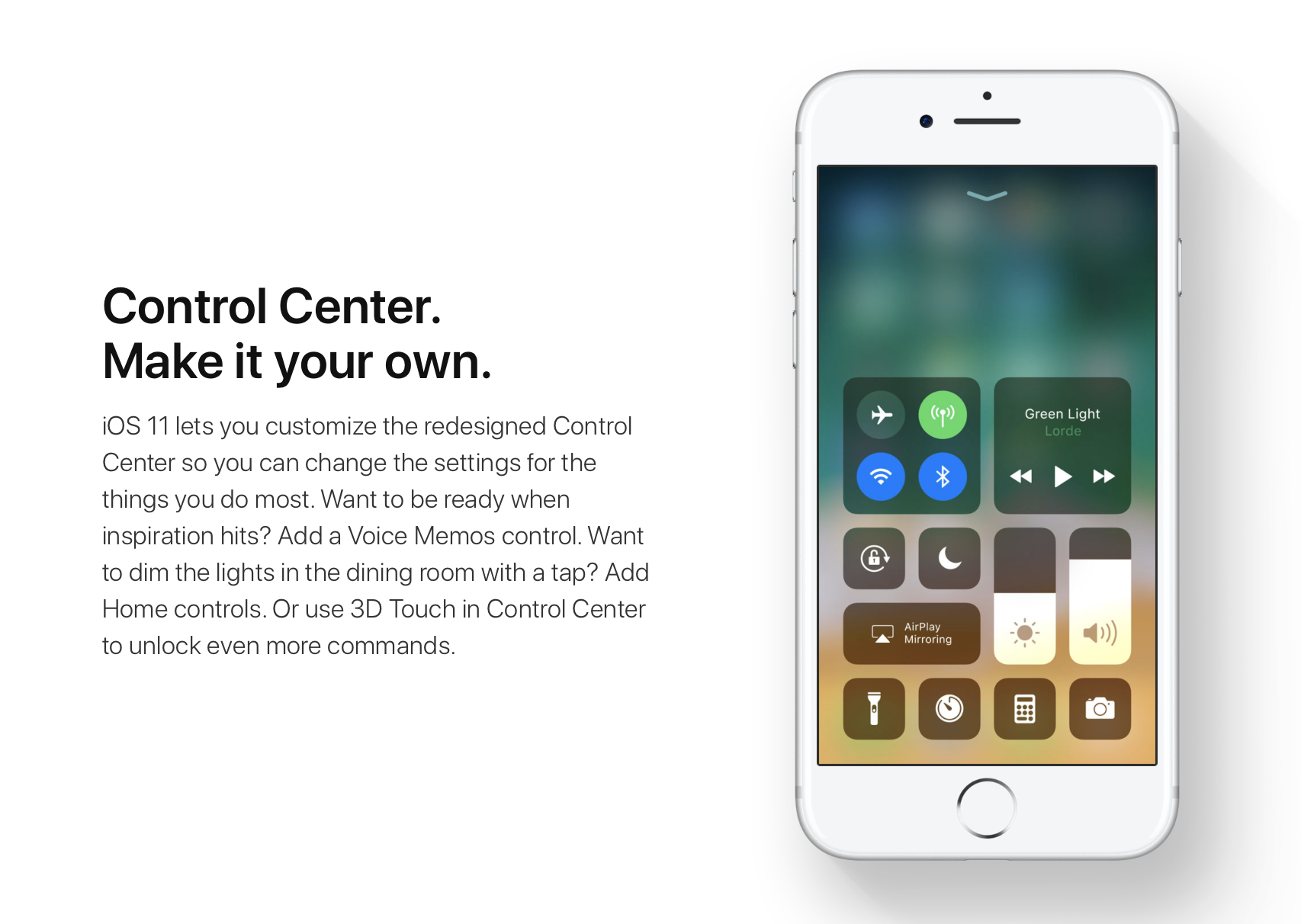 The Control Centre is also customisable in iOS 11, and you can use 3D Touch to access further settings options. That helps you get to the settings you need frequently, more quickly.
New features
iOS 11 also includes a wide range of additional features. Here are our favourites;
- Messages
The Messages app gets several new features in iOS 11, including a new 'app drawer', which contains stickers, and the ability to pay your contacts using Apple Pay. We think that's going to be a big hit. Apple Pay has already been adopted by many businesses, including SimplyFixIt, and we think that option of paying your friends quickly and securely with a few clicks is revolutionary. There's also new Messages in iCloud: a feature that will automatically synchronise your conversations across all of your iOS and macOS devices.
Finally, Apple has added a new Quick Type keyboard which will mean you can use the device easier if you're just using one hand. It will move the keys closer to your thumb for simpler typing.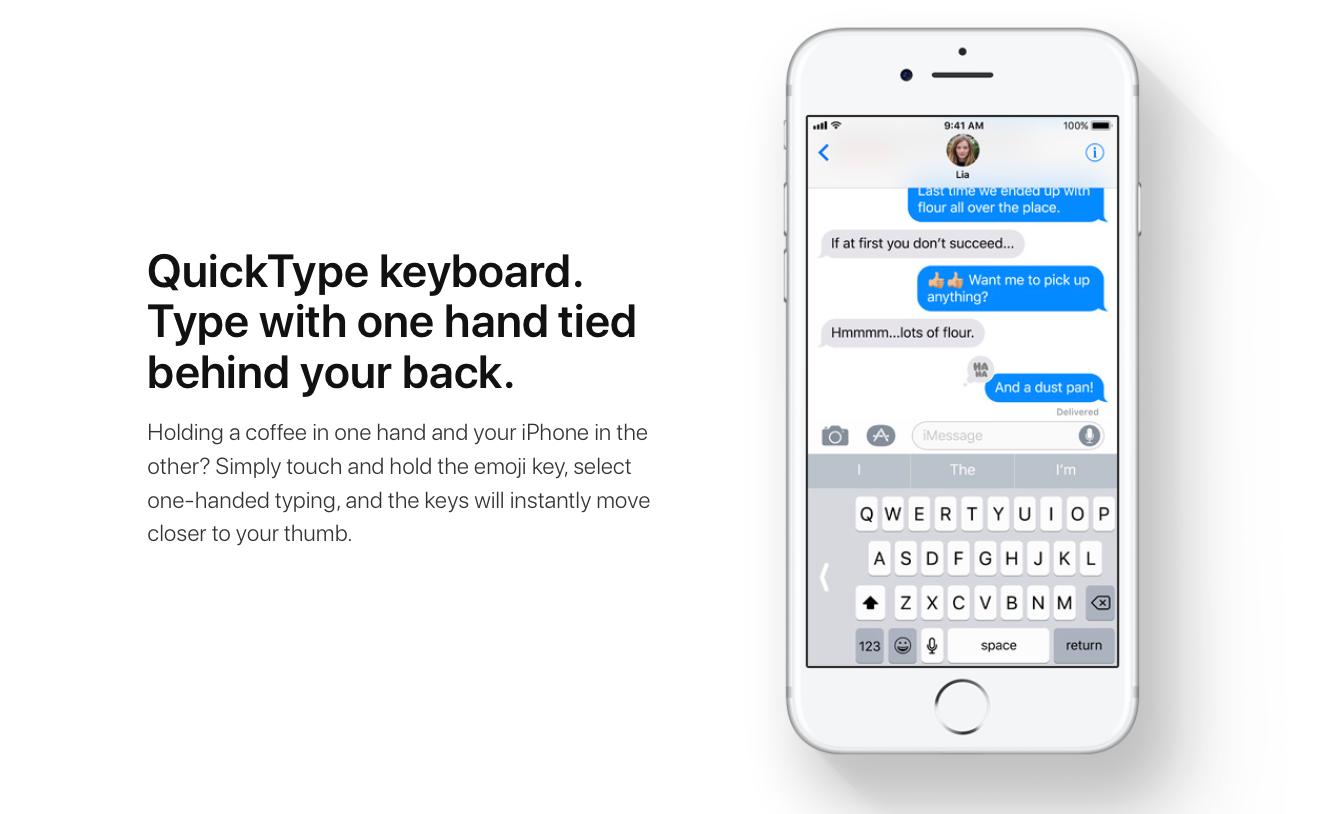 - Siri
Siri has a new, more natural-sounding male and female voice, as well as a visual revamp (it's going to look different). Siri now also has the ability to translate what you say into German, French, Italian, Chinese or Spanish - absolutely perfect for when you're travelling.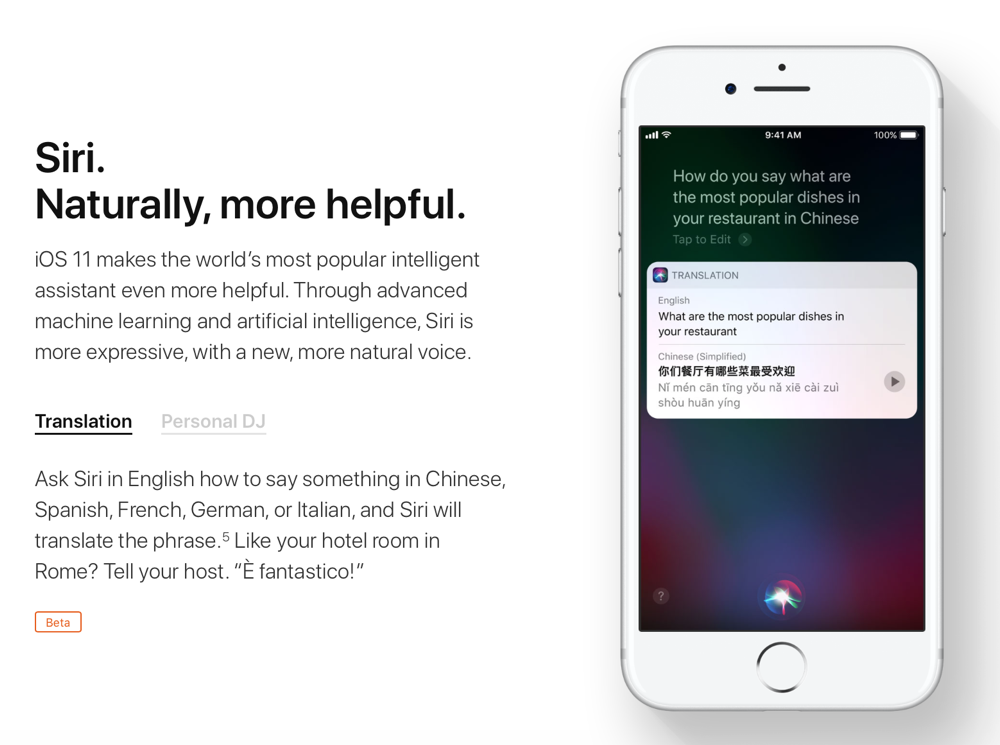 Another nifty feature which will be included, although Apple didn't mention it during their keynote, is the ability to type queries into Siri rather, than always being forced to speak them out loud. That might be really useful if Siri struggles with your accent
- Camera
The Camera app will see significant improvements in iOS 11 too, including improved image quality. Additionally, Portrait Mode in the iPhone 7 Plus can be taken with Optical Image Stabilisation, True Tone flash and HDR.
Apple has also added a new technology called High Efficiency Image File Format (HEIF) that reduces the file size of your iPhone 7 or 7 Plus photos.
The camera is also getting a built-in QR scanner. That's probably not going to be your favourite of all updates, but it's a bit overdue. Now you won't need that 3rd party App toread QR codes.
- Live Photo Effects
I really like this one. Now you can choose the exact frame you want from a Live Photo to make your Key Photo. So if you like the image it shows by default in your Photos library, but would rather change it for a snapshot which occurs during the Live scene itself, you can.
There are also new 'Effects' available to use with Live Photos. The Loops effect will turn your Live Photo into an infinite video loop, much like the GIFs you see online which autmatically repeat once they get to the end, but in much higher quality. Bounce will play and then reverse the clip. And a really cool feature means you can combine Live Photos to create a Long Exposure effect, perfect for waterfalls or city shots.
- Maps
Apple have also introduced a new feature called Do Not Disturb While Driving. This stops notifications from distracting you while Maps is guiding you through a car journey. Anybody who tries to get in touch with you whilst this is enabled will get a note saying you'll see the message when you arrive at your destination.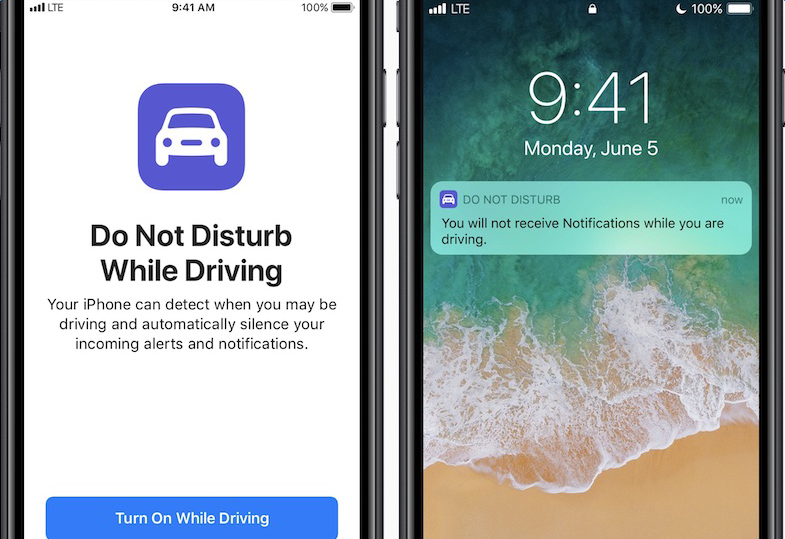 Release date
The official version of iOS 11.0 will probably launch in September, like iOS 10 did last year
- Which iPhone models are compatible?
iOS 11 is a bit more demanding than iOS 10. To install it, you'll need an iPhone 5s or later.