We are very pleased to say that we are part of the official sponsors for The Dalkeith Molecule Hunt. Part of the Midlothian Science Festival, this is a treasure hunt around Dalkeith for budding scientists. There are some great prizes for the winners, including a Molymod Molecular Kit plus gift vouchers for SimplyFixIt in Dalkeith.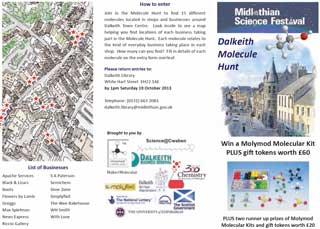 Click here to download a copy of the entry form
or for more information, please visit the
Midlothian Science Festival website.